Edward Davis made history by becoming the first black man in Detroit to open a "Big Three" auto franchise, as well as the first black man to open a used car dealership. He later was appointed by Detroit's mayor, Roman Gribbs, to be the general manager of the City of Detroit's Department of Street Railways.
Davis was born in Shreveport, Louisiana. He arrived in Detroit at the age of 16 when he moved in with his aunt and uncle. He was the oldest of 10 children. Davis enrolled at the Cass Technical High School and after graduating he originally planned to become an accountant, but took interest in the auto industry instead. He got his first job working in an auto garage for 12 cents, which paid his bus fare. Eventually, he worked his way up to making $12 per week.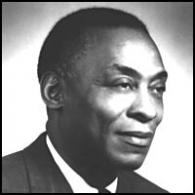 The Great Depression took a toll on his place of business and he lost his job. However, Davis did not let that stop him. He opened up a car wash business by renting a space at a gas station. His next big break into the auto field occurred when one of his car wash customers offered him a job at Dodge Brothers Foundry in Hamtramck, an enclave of Detroit. He worked at foundry and the machine shop of the establishment.
In 1936, he was offered a job as a part -time car sales position at a new Dodge dealership that was being opened by his boss' son. However, he was not allowed to work in the main showroom; he worked out of a storeroom on the second floor of the dealership.
Once members of the black community heard about, "The black man who sold Chryslers," Davis became successful in generating sales and was promoted to a full-time sales position.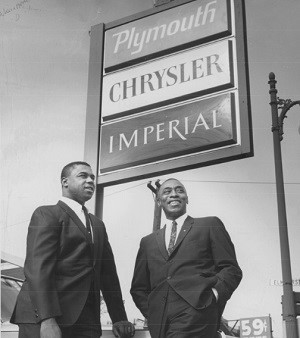 Davis' sales were much higher than most of the white salesmen, which often caused conflict on the job. In 1939, Davis was able to open his own used car dealership selling used Studebakers. His business, Davis Auto Sales, was located in the predominately-black area of Detroit known as Paradise Valley. He was the first African American in the U.S. to own a used car dealership. It was Studebaker's goal to increase their sales to black buyers through Davis.
Studebaker later filed bankruptcy in 1956, and Davis secured a new car franchise of his own with Chrysler-Plymouth, under the name Davis Auto Sales. This made Davis the first African American to be given a "Big Three" automobile franchise, and also made him the third African American in the U.S. to open a new car dealership. After the Detroit Race Riots of 1967, the Davis dealership was greatly affected, and he ultimately retired in 1971. Davis was inducted into the Automotive Hall of Fame in 1966.
source:
http://www.automotivehalloffame.org/inductee/edward-davis/39/