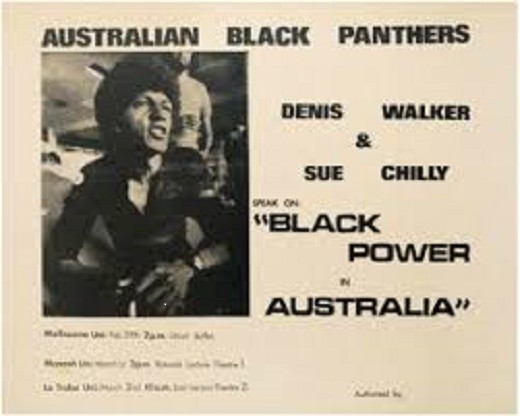 Aboriginal revolutionary, scholar, political activist and Black Power activist Denis Walker and Sam Watson co-founded the Australian Black Panther Party in 1971. The BPP was declared to be "the vanguard for all depressed people, and in Australia the Aboriginals are the most depressed of all."
Headquarters for the Australian Black Panther Party was set up headquarters in Brisbane, the capital city of Queensland with a small group of "field marshals" that included indigenous activists Paul Coe, Gary Foley, Gary Williams and Billy Craigie. There was only 10 members of the Australian Black Panther Party.
The Australian chapter of the Black Panther Party adapted the politics and militant style of the American Black Panther Party to address issues affecting Aboriginal people and make demands for equality of treatment in education, health and legal representation, the abolition of discriminatory legislation, an end to police harassment, and the simple right to live without racism.
In October 1970, the Aboriginal Legal Service of New South Wales was set up as a response to the police brutality and to provide legal representation in court for the Aboriginal community. With support from law academics it was the first organization in that state to be conceived, established, and controlled by Aborigines since the 1930s.
With support from government funding and grants, the Aboriginal Medical Service was established in 1971 to provide basic health care to the Aboriginal community and improve the health and well-being of Aboriginal families who suffered with malnutrition. These programs included variations of the Black Panther Party's "Feed the People" and "Free Breakfast for Children" programs. Volunteers distributed free fruit and vegetables to Aboriginal families in Sydney, and the Breakfast for Children program, run in conjunction with a local chapel, provided Aboriginal schoolchildren with breakfast on school mornings where otherwise they might have eaten nothing.
source:
http://www.blackhistorystudies.com/resources/resources/australian-black-panther-party/
https://hueypnewtonbydeborah.weebly.com/inspiration-on-australian-civil-rights.html