Roy Campanella was a famous and well-known baseball legend.  He was born November 19, 1921, in Philadelphia, and is known to have been one of the greatest catchers in the history of baseball. He is also known for helping break color barriers in Major League Baseball. Campanella became the first Black catcher in league history. Campanella's father was of Italian descent and his mother was African-American.
Campanella dropped out of high school at the age of 16 to play for the Washington Elite Giants in the Negro National League. He was barred from playing in the majors because of race until 1947, the year Jackie Robinson joined the Brooklyn Dodgers. The next year, Campanella was hired by the Dodgers and went on to anchor the team until he was in a horrible car accident which paralyzed him. Campanella won the National League Most Valuable Player award in 1951, 1953 and 1955, and earned the nickname "Campy" by his friends.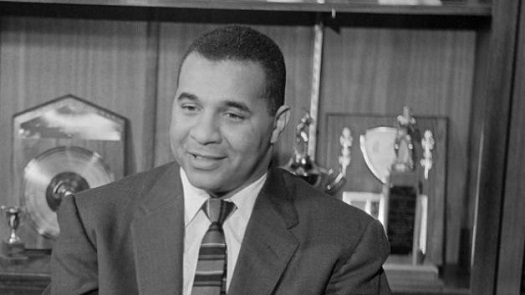 On January 28, 1958, after closing his liquor store for the night, he began his drive to his home in Glen Cove. Campanella's rented 1957 Chevrolet sedan hit a patch of ice at an S-curve on Dosoris Lane near Apple Tree Lane, skidded into a telephone pole, and overturned, breaking Campanella's neck. In 1969, Campanella was inducted into the Baseball Hall of Fame. Campanella was married three times. Campanella died of heart failure on June 26, 1993, at his home in Woodland Hills, California.
source:
http://baseballhall.org/hof/campanella-roy