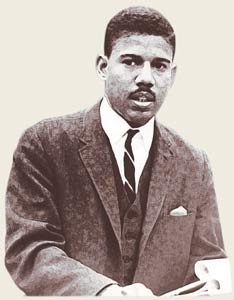 Henry Marsh, III was a civil rights attorney. He was elected by the city council as the first African-American mayor of Richmond and went on to be elected as the Senate of Virginia in 1991.
Born in 1933, Henry L. Marsh III was named for his father and grandfather. His mother died when he was only five, and his father had to split up the young family of four children for several years. Marsh was sent to live with an aunt and uncle who lived in a rural area. While there, he attended Moonfield School, a racially segregated "one-room school" which held seven grades and one teacher.
By age eleven, Marsh and his siblings were back living with their father in Richmond,Virginia. In 1952, Marsh graduated with honors from Maggie L. Walker High School, where he was senior class vice-president, president of the student NAACP chapter, and editor of the school newspaper.
Marsh went on to receive an A.B. degree in sociology from Virginia Union University.  While at Virginia Union, Marsh testified on behalf of the student government at a joint session of the Virginia General Assembly. Despite the US Supreme Court ruling in Brown vs. Board of Education, the Virginia legislature, consisting of all white members, were considering laws to enact the Byrd Organization's program of "massive resistance" to desegregation. While there, Marsh met civil rights attorney Oliver Hill, who had also testified against the plan. During their meeting, Hill urged Marsh to go to law school.
After completing law school, Marsh joined the firm that would became the partnership of Hill, Tucker & Marsh with Samuel W. Tucker and Oliver W. Hill. Specializing in civil rights work, Marsh led more than fifty cases involving desegregation as well as other important cases, including Quarles v. Philip Morris (1967), which established that minorities have access to equal employment opportunities, and Gravely v. Robb (1981), which led to single-member districts for the General Assembly.
Elected to Richmond City Council in 1966, Marsh served as vice mayor from 1970 until his election in 1977 as the first African American mayor of Richmond. He also co-founded the Metropolitan Economic Development Council (1978) and Richmond Renaissance. In 1981, Mayor Marsh hosted the "National Conference on the Black Agenda in the 80s," a conference of African-American federal, state and local officials.
In 2008, Marsh became the first African American Chairman of the Senate Courts of Justice Committee and Chairman of the Capital Outlay Subcommittee of Senate Finance. He also served as Chairman of the Martin Luther King, Jr. Memorial Commission, Chairman of the Martin Luther King, Jr. Living History and Public Policy Center Board of Trustees, and Chairman of the Virginia Alcohol Safety Action Program (VASAP).
source:
http://www.richmond.com/special-section/black-history/henry-l-marsh-iii/article_3396fa80-15b9-56da-aeb5-0ee182b5103f.html
http://www.lva.virginia.gov/public/trailblazers/2010/honoree.asp?bio=7