Dr. Jeanne C. Sinkford overcame race and gender barriers to become the first woman dean of any dental school. 
Dr. Sinkford grew up in a family that valued education. She was one of four children, all of whom went to college. As a teenager, she was part of the cadet program at Dunbar High School, a highly competitive school for black students in Washington, D.C.
In 1958, after graduating from Howard University's dental school, she joined the Howard faculty in the Division of Prosthodontics. Two years later, she moved with her husband to Chicago and attended Northwestern to study for a doctorate in physiology while undergoing postgraduate training in the field of prosthodontics.
Dr. Sinkford served on numerous national councils and organizations, including the National Institutes of Health, National Academy of Sciences, White House Conference on Aging, Food and Drug Administration, and Veterans Administration. As a member of the Tuskegee Ad Hoc Advisory Panel, she helped develop policies to protect the rights of patients participating in government-sponsored health research.
She was elected into the American College of Dentists in 1967 and was appointed Dean of Howard University's College of Dentistry in 1975. She set high standards for students and faculty and always found ways to help them achieve their goals.
Dr. Sinkford has published more than 90 articles in reviewed journals. She also wrote an instructional manual for Crown and Bridge Prosthodontics, and is the co-author of "Womans Health Info in the Dental School Curriculum: Report of a Survey and Recommendations."
In 2015, Dr. Sinkford received the Distinguished Service Award from the American Dental Association. She is also a past recipient of the Candace Award from the National Coalition of 100 Black Women. She is a member of the Institute of Medicine and a fellow of the American College of Dentists and the International College of Dentists.
Dr. Sinkford also holds honorary degrees from Meharry Medical College, Georgetown University, the University of Medicine and Dentistry of New Jersey, and Detroit-Mercy University.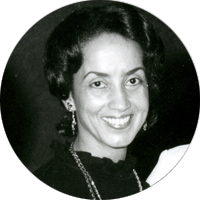 sources:
http://orwh.od.nih.gov/about/acrwh/members/sinkford.asp
https://en.wikipedia.org/wiki/Jeanne_Sinkford