Dr. John M. Perkins is a civil rights leader noted for his outspoken nature and leadership demonstrations.
Perkins was born in 1930 in New Hebron, Mississippi. His mother died of pellagra when he was just seven months old. He was abandoned by his father and left to be raised by his grandmother and extended family who worked as sharecroppers.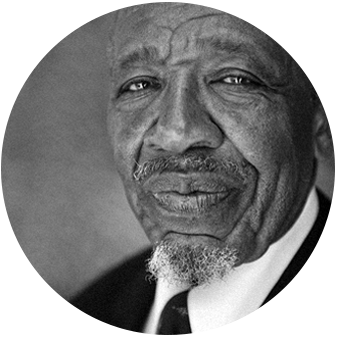 In 1947, he moved from Mississippi due to his family urging him to leave the area. They feared he might be in danger following the fatal shooting of his brother, Clyde, by a police officer. He settled in southern California where, in 1957, he underwent a conversion to Christianity.
After his Christian conversion in 1960, he returned to Mendenhall, Mississippi, where he and his strong wife Vera Mae, founded Voice of Calvary Ministries to evangelize and work in community development. There, VOC started a church, health center, leadership development program, thrift store, low-income housing development, and a training center. Dr. Perkins also started development projects in the neighboring towns of Canton, New Hebron, and Edwards.
In the fall of 1969, Dr. Perkins became the leader in an economic boycott of white-owned stores in Mendenhall. On February 7, 1970, following the arrest of students who had taken part in a protest march in Mendenhall, Dr. Perkins was arrested and tortured by white police officers in Brandon Jail. However, Dr. Perkins emerged from the experience with a commitment to his vision of a holistic ministry—one that saw the bondage racism inflicted on whites as well as the damage and deprivation of the black community. He summarized his philosophy of Christian ministry in the "three Rs"—Relocation, Redistribution and Reconciliation.
After the death of his son Spencer in 1998, Perkins returned to Mississippi, and bought the property once owned by his son, he established the Spencer Perkins Center, the youth arm of the John M. Perkins Foundation. Perkins is the author of nine books, including A Quiet Revolution, Let Justice Roll Down, With Justice For All, Beyond Charity, He's My Brother, Resurrecting Hope, and A Time to Heal, and has written numerous chapters in others.
Source:
http://spu.edu/depts/perkins/john-perkins/index.asp