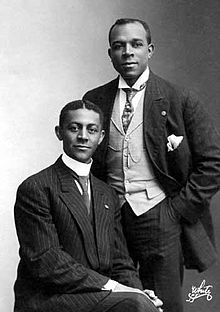 Bob Cole was a composer, playwright, actor, and stage producer and director. He wrote and produced A Trip to Coontown in 1898. It was the first musical entirely created and owned by black showmen. Cole later partnered with brothers J. Rosamond Johnson, pianist and singer, and James Weldon Johnson, pianist, guitarist and lawyer, which resulted in over 200 songs.
Robert Allen "Bob" Cole was born on July 1, 1868. He was the oldest of five siblings. His family was driven musically, both his parents were square dancers. At fifteen years of age, Bob was forcibly moved to live with his distant relatives, of his mother's side, in Florida – due to his violent confrontation with the son of the mayor of Athens, Bob had to flee the town before dire consequences occurred. However, after a short amount of time, Bob was reunited with his family after they moved to Atlanta, Georgia.
Cole later moved to Florida, where he was able to be involved in a small string quartet for a short period of time. Later, pursuing a career in the music business, he worked at a resort in Asbury Park, New Jersey, as a "singing bellboy." He later moved to Chicago where he was able to become a comedian. He told jokes, played the guitar, and would sing in various clubs throughout the city.
He gradually gained popularity in the public eye, and began rising in the field of black musicals. Around the early 1890s, with the support of the Chicago firm of Will Rossitier, Bob Cole presented his two legally published songs: "Parthenia Took a Likin' to a Coon" and "In Shin Bone Alley." Cole produced four "Genuine Negro songs by a Genuine Negro Minstrel" that were published by Brooks and Denton of New York and London. These four songs were: "Fly, fly, fly," "Move up, Johnson," "Colored aristocracy," and "Dem golden clouds."
Cole established his own black production company with the group of individuals who also left the Troubadours; resultantly, he and the
group created the famous A Trip to Coontown. The musical, consisting of only black actors and revolving around the traditional minstrel stereotypes, delved into the story of a con artist, Jimmy Flimflammer, and his failed attempts to rob an elderly man of his pension. Furthermore, in order to maintain the interest of the audience, the play also included variety, or comedic, acts to liven the show.
By 1902, Cole gained ultimate success, financially, and wrote the article "The Negro and the Stage" for the Colored American Magazine. In it, he reveals his concerns toward the crippling imaged placed on African-American performers. Cole committed suicide by drowning himself in a creek in the Catskills in 1911 after a nervous breakdown and period of clinical depression that worsened in 1910.
sources: