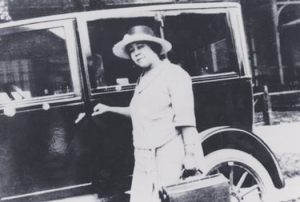 Justina Ford was born in Knoxville, Illniois in 1871. Her mother worked as a nurse, and young Justina would often go with her to care for the sick. As she got older, she set her eyes on becoming a doctor.
She began to save money and with the help of her family she was able to attend the Hering Medical College in Chicago. Justina graduated from medical school in 1899. When Ford first applied for her medical license she was turned down. She was told she had two strikes against her, first she was a woman, and second she was black. However, Ford didn't allow that to stop her. She eventually got her license only to face more obstacles.
Living in Denver, Colorado, the hospital had a policy against treating black patients and did not allow black physicians to base themselves in the hospital. Ford countered by setting up her own practice, where she specialized in gynecology, obstetrics, and pediatrics. She became known throughout the community as "The Lady Doctor".
Ford accepted all who came to her. Many people saw her for minor illnesses, checkups, and obstetrical care. It was estimated that Ford delivered around 7,000 babies in her life time. She often accepted for payment whatever people could trade. If patients did not have anything, she would send them home with items such as food, blankets, and whatever else she could provide.
When Dr. Ford died in 1952, she was widely known to patients of every race and religion.  She learned several different languages, enabling her to communicate with patients in their native tongue, and her generosity was legendary.  After Ford's death she was finally granted admission to the local Medical Association and honored for her services to Denver's working class communities.
source:
http://www.blackpast.org/aaw/ford-dr-justina-1871-1952