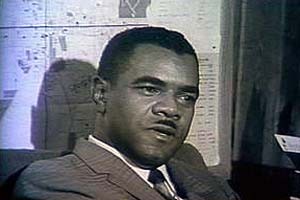 William G. Anderson first gained national attention as the president of the Albany Movement. Later, he was recognized as a renowned osteopathic physician, educator, surgeon, and hospital administrator.
Anderson was born in Americus, Georgia on December 12, 1927, to Emma Jean Gilchrist and John Daniel Anderson Sr. He graduated high school at the age of fifteen and went on to enroll at Fort Valley State College, where he pursued a premedical path. At the age of seventeen, his education came to a halt, when he enlisted in the U.S. Navy in the midst of World War II.
He was initially attached to the first integrated company in the Navy. However, he suffered from acute tonsillitis, which prevented him from joining his company in the Pacific. After his recovery, he was reassigned to a company stationed in the Philippines, and was selected to join the Navy's Hospital Corpsmen.
After the Navy, Anderson returned to Georgia. He removed with his wife Norma Lee Dixon, a former classmate at Fort Valley State, to Atlanta. Anderson enrolled at the Atlanta College of Mortuary Science, where he completed his degree in 1947. He then moved his family to Montgomery, Alabama where he found work at a black funeral home while attending night classes at Alabama State College. While in Montgomery, he formed a friendship with Ralph Abernathy, who later became Anderson's colleague in the civil rights movement. He later formed a friendship with Martin Luther King Jr., who was then a student at Morehouse College.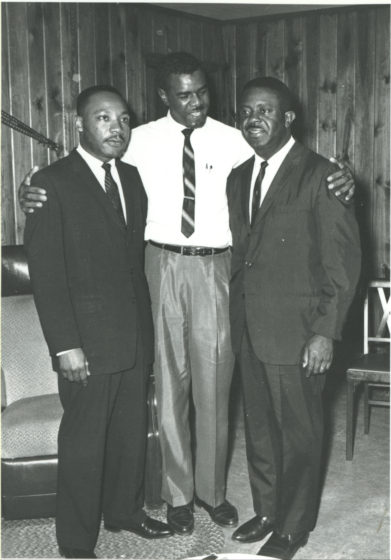 Anderson, initially expressed reservations over pursuing a medical career in osteopathy, a visit to the bustling Albany office of physician Willie Joe Reese convinced Anderson of the field's worth. Reese, then the only practicing African American osteopath in the South, persuaded Anderson to apply to the Des Moines Still College of Osteopathy in Iowa and promised to recommend him to the school's dean.
After completing his degree at the Des Moines Still College of Osteopathy in Iowa, Anderson returned to open up his own practice in Albany, Georgia. Anderson joined a small but close-knit community of black professionals, most of whom belonged to the National Association for the Advancement of Colored People (NAACP), the Urban League, or the Criterion Club, a local civic organization.
In 1961, the city's black leaders formed the Albany Movement in mid-November, and they selected Anderson as their president because he was relatively new to town and largely insulated from white economic reprisals by his private practice. Anderson invited his old friends Martin Luther King Jr. and Ralph Abernathy to lead demonstrations in Albany.
Many observers viewed the Albany Movement as unsuccessful because it failed to secure the immediate desegregation of municipal spaces and institutions. The Albany Movement dissolved in 1962; Anderson then accepted an appointment as house physician at Art Centre Hospital in Detroit, Michigan. He also went on to become the first black surgical resident in Detroit's history.
sources:
http://msutoday.msu.edu/360/2015/william-g-anderson-freedom-of-equality/
http://www.georgiaencyclopedia.org/articles/history-archaeology/william-g-anderson-b-1927
https://www.accessgenealogy.com/kansas/biography-of-william-g-anderson.htm
Hatfield, Edward A. "William G. Anderson (b. 1927)." New Georgia Encyclopedia. 13 July 2015. Web. 07 November 2016.