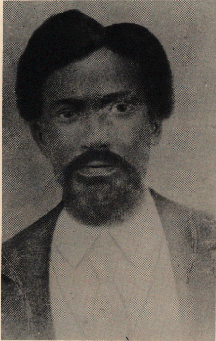 Matthew Gaines was a former slave, community leader, minister, Republican State Senator and courageous leader in the 12th Legislature, which established free public education in the State of Texas and enabled the founding of Texas A&M University.
Gaines was born on August 4, 1840 near Alexandria, Louisiana to a female slave owned by the Martin Despallier family. While living on the Despallier estate, Gaines taught himself how to read from books that were most likely smuggled to him by a young white boy who was believed to have been Blaz Philipe Despalier.
After being sold from the Despallier family, Gaines escaped from his new owner in Louisiana to Arkansas, and eventually made it to New Orleans, where he was captured and returned to his master. In 1859, Gaines was sold to Christopher Columbus Hearne, where he remained until 1863 when he tried to flee to Mexico. He was caught again and was forced to work as a runaway slave in Fredericksburg, Texas until the end of the war. After the 1863 emancipation was finally officially announced in Texas on June 19, 1865, Gaines settled in Washington County, where he established himself as a leader of the freedmen, both as a Baptist preacher and a politician.
In 1869, Gaines was elected as a Senator of the Texas's 16th district in the Twelfth Texas Legislature. He gained a reputation for being a guardian of the newly-won rights of the African-Texans. Throughout his term, he addressed the issues of public education, prison reform, the protection of black voters, and tenant farming reformation. Gaines died in Giddings, Texas, on June 11, 1900.
sources:
https://www.tsl.texas.gov/exhibits/forever/representation/page7.html