The Earle Race Riot of 1970 occurred on the evening of September 10 in a small county in Arkansas, and continued into the early hours of September 11. The violence erupted when a group of whites armed with clubs, guns, and other weapons attacked a group of unarmed African-Americans marching to Earle County city hall to protest segregated conditions in the town's school system. Five black residents were injured, including two women who were shot, and one was in serious condition but survived.
Among those who were hurt were the Reverend Ezra Greer, a civil rights activist, and his wife, Jackie Greer. Both of the Greers during the time were running for elected office in the county. Earle's black residents had been advocating for racial justice in the months before the riot.
Days before the violence erupted in Earle, black students had taken part in a walkout as a means of protesting continued segregation and discrimination in the schools. Protesters insisted upon complete desegregation of the schools. Their demands included installation of a black principal, removal of school superintendent Sam Bratton, an end to the dress code, and equal employment opportunities and pay standards.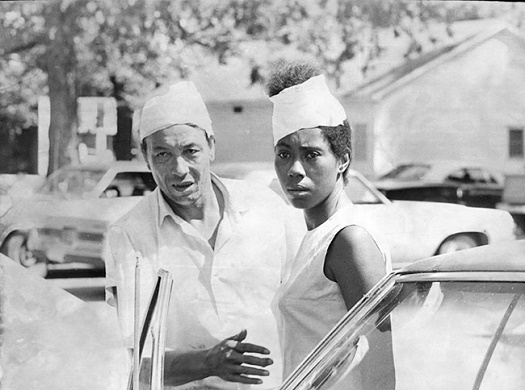 Police got involved when they were notified that the protesters were throwing rocks and destroying property. Over 30 protesters from the ages of 13 to 20 were arrested, all of whom were students except two. Police charged the protesters with marching without a permit.
At around 10:00 p.m. on September 10, a group of roughly 150 black citizens met at a church in Earle and began a march on city hall, which doubled as a fire station. About a half-block away from city hall, the group was confronted by a mob of about 30 whites, armed with weapons. Local police had deputized citizens, and state troopers assisted in confronting the group. Shots were fired in the air to disperse the crowd, but shots were also fired directly into the crowd, injuring Ezra and Jackie Greer as well as two teenage girls. Police denied firing shots into the crowd.
Rev. Greer was arrested and eventually taken to a hospital in Memphis, Tennessee, for his injuries. Greer's arm was broken and he claimed he had been beaten and sprayed with mace. Jessie Mae Maples, who had been shot in the stomach, was hospitalized for almost three weeks and had her spleen, kidney, and part of her pancreas removed; although she recuperated, she never found who was responsible for her injuries. The violence continued into the next morning, and one police officer claimed blacks were shooting at anything that moved, "but not one white person was injured."
In October 2, 1970, Judge Eisele ordered the complete desegregation of Earle's schools. On October 5, three days after Eisele's ruling, in further protest against racist conditions in the school system, black citizens in Earle created the Soul Institute, which conducted classes in the offices of the Crittenden County Improvement Association. Among the contracted teachers was Jackie Greer. The Soul Institute was never accredited, and it shut its doors after a few months in operation.
source:
Original story found at:
http://www.encyclopediaofarkansas.net/encyclopedia/entry-detail.aspx?entryID=8588