The Elaine Race Riot was one of the worst riots in American history, as hundreds of black sharecroppers lost their lives during the riot.
Twelve black sharecroppers were sentenced to death for allegedly being involved in the murder of a white man in October 1919. The men were convicted and sentenced to death by an all-white jury; it took approximately 20 minutes for them to reach a verdict.
The plight of the Elaine 12, and 87 other black men who were convicted to prison terms for participation in the riot, quickly made headlines across the country. Three organizations offered assistance with the cases: the Arkansas Conference on Negro Organizations, the NAACP, and the National Equal Rights League.
The Arkansas Conference on Negro Organizations and National Equal Rights League joined together to hire Scipio Jones as the defense attorney for all 99 of the convicted men. The NAACP hired former state attorney general George W. Murphy as the defense attorney for the Elaine 12. The two attorneys were friends and decided to work together.
Unfortunately, Murphy died unexpectedly after a retrial for six of the murder defendants was granted in 1920. The NAACP decided to retain Jones as a replacement for Murphy. When it was time to argue the Elaine 12 case before the Supreme Court, the NAACP decided to replace Jones with Moorfield Storey of Boston, the founding president of the NAACP, and former assistant U.S. attorney Ulysses S. Bratton of Little Rock, Arkansas.
Jones continued to support the cases, and in 1923, the Supreme Court ruled in Moore v. Dempsey that, for the first time, collateral attack through habeas corpus was permissible in a state appellate court decision.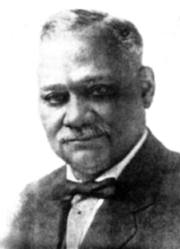 While the trials were taking place, Jones was threatened almost daily. It was said that he had to move from location to location every night, in fear for his safety.
New trials were granted to the twelve defendants as the court stated that they had not received due process in the original trials. Charges were quickly dismissed against six of the defendants. The remaining six were retried, convicted, and sentenced to twelve years in prison.
Jones successfully lobbied Arkansas Governor Thomas McRae, who had earlier refused to release the defendants, to let men out on indefinite furloughs in 1925. Before leaving office, Governor McRae also pardoned the other 87 Elaine defendants. This was hours before Governor-Elect Thomas Terral, a Klan member, assumed office. During a speech before one of the largest KKK rallies in Arkansas history the night before his inauguration, Terral vowed to execute the six remaining Elaine defendants as his first official duty in office.
sources:
Arkansas's Blood Stained Soil: 237 People Killed In Elaine Race Riot Lynching Massacre
https://en.wikipedia.org/wiki/Scipio_Africanus_Jones