The #Cicero Race Riot occurred in 1951. It was one of the worst race riots in the country. It is estimated that 4,000 whites attacked an apartment building that housed one single #black family in a neighborhood in Cicero, Cook County, Illinois.
Mrs. DeRose owned an apartment in an all-white neighborhood and rented it to Harvey E. Clark, Jr., a Black war veteran and a graduate of Fisk University, along with his family. A high official in the town found out what Mrs. DeRose had done and warned her about the trouble her actions would cause. At 2:30 pm, in June 8, the police stopped a moving van with Clark's furniture. An angry white crowd started to gather and Clark was told by the police to get out or he would be arrested "for protective custody." Clark was hit eight times when he was pushed towards a vehicle parked across the street and was shoved inside the car. After the altercation the NAACP got involved and a lawsuit was filed against the town on June 26, 1951.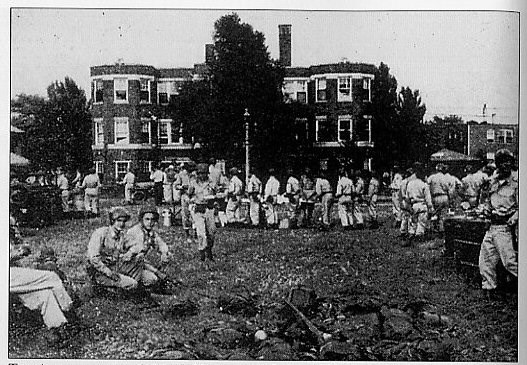 On July 11, 1951, a crowd of around 4,000 white people gathered outside the apartment building. Women carried stones and threw them through the Clark's windows. Others tossed firebrands onto the window and rooftop where other tenants had already fled before the riot. Firemen who arrived at the scene were also met with stones and bombs.
Deputies asked the fireman to turn their hose on the rioters but they refused to do so without their lieutenant who was unavailable. The situation grew out of control and County Sheriff John E. Babbs asked Illinois Governor Adlai Stevenson to send in the Illinois National Guard. The troops began to arrive at the scene but the rioters fought with them back from the scene. Armed with bayonets, rifle butts, and tear gas, the troops finally got the riot under control by setting a 300-yard perimeter around the apartment block in which the rioters were trying to wreck.  Four days later there was $20,000 worth of damage done to the building.
Later, a grand jury indicted four Cicero officials and three police officers on charges of violating Clark's right. Charges were then dropped against the fire chief, which refused to fire their water hose on the rioters when asked by police, and the town's President. The police chief and two policemen were fined for violating Clark's civil rights. Despite the Cicero riot that occurred Black families continued to move to Chicago. Although, the harassment by whites did not end, the problems were less frequent.
source:
http://originalpeople.org/cicero-illinois-race-riot-1951/