Ernest Lawrence "Ernie" Fields was an African-American trombonist, pianist, arranger and bandleader. He first became known for leading the Royal Entertainers, which were based in Tulsa, Oklahoma, and toured along a circuit stretching from Kansas City, Kansas, to Dallas, Texas.
Fields was born in Nacogdoches, Texas, and was raised in Taft, Oklahoma. He attended Tuskegee Institute and then moved to Tulsa.
From the late 1920s, he led a band called the Royal Entertainers, and eventually began touring more widely, and recording. Supported by Bob Wills, Fields' band became the first African-American band to play at the landmark Cain's Ballroom in Tulsa. The band toured nationally, also playing for the troops during WWII. One of the highlights for the Ernie Fields Orchestra was in 1959 when they had an international hit with an R&B version of Glenn Miller's "In the Mood."
Ernie received the honor of induction into the Oklahoma Jazz Hall of Fame in 1989. He died in May 1997, at the age of 92.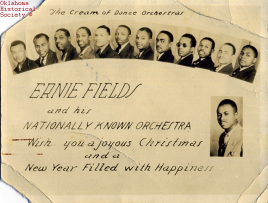 sources:
https://en.wikipedia.org/wiki/Ernie_Fields