Gen. Hazel Winifred Johnson-Brown was a nurse and educator who served in the United States Army from 1953 to 1983. She was the first black woman general in the United States Army and the first black chief of the United States Army Nurse Corps.
She was born in 1927 in West Chester, Pennsylvania, as one of seven children. She grew up on her father's farm in Chester County, near the town of Malvern.
At a very young age, she knew she wanted to become a nurse. When she first applied to the West Chester School of Nursing, she was rejected because of her race. The Johnson family's nurse, a white woman, saw the potential in the young girl and helped her gain admission to the Harlem Hospital School of Nursing, where she earned her nursing diploma in 1950.
In 1955, Gen. Johnson-Brown joined the Army, shortly after President Harry Truman banned segregation and discrimination in the armed services. She was a staff nurse in Japan and chief nurse in Korea. While serving as chief nurse of the Army hospital in Seoul, she was promoted to brigadier general.
While in the Army, she earned a Bachelor's degree 1959 from Villanova in 1959, a Master's degree in Nursing Education from Columbia University in 1963, and a Ph.D. in Education Administration from Catholic University of America in 1978. Prior to receiving her doctorate, she was the director of the Walter Reed Army Institute of Nursing.
Her many military decorations included the Distinguished Service Medal, the Legion of Merit, the Meritorious Service Medal, and Army Commendation Medal. She was twice named Army Nurse of the Year. After retiring from the army, Gen. Johnson-Brown headed the American Nurses Association's government relations unit and directed George Mason University's Center for Health Policy.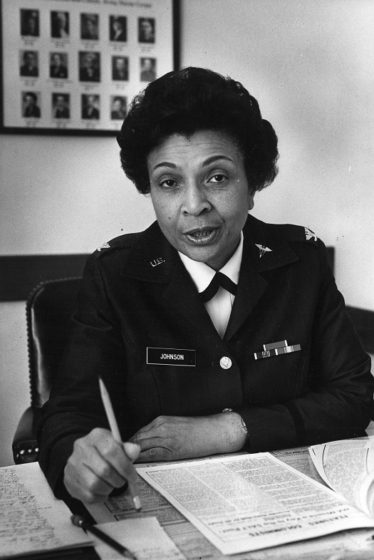 source:
http://www.chestercohistorical.org/historys-people-hazel-johnson-brown-first-female-black-general