Elizabeth Catlett was an African-American graphic artist and sculptor best known for her depictions of the African-American experience in the 20th century, which often had the female experience as their focus.
Catlett was born and raised in Washington, DC. Her mother and father were the children of freed slaves, and her grandmother told her stories about the capture of blacks in Africa and the hardships of plantation life. Both parents worked in education. Her mother was a truant officer and her father taught at Tuskegee University then at the DC public school system. Her father died before she was born, leaving her mother to hold several jobs to support the household.
Catlett's interest in art began early. As a child she became fascinated by a wood carving of a bird that her father made. In high school, she studied art with a descendant of Frederick Douglass.
Catlett did her undergraduate studies at Howard University, graduating cum laude, although it was not her first choice. She was also admitted into the Carnegie Institute of Technology but was refused admission when the school discovered she was black.
Because Catlett became interested in the work of landscape artist Grant Wood, she entered the graduate program of the University of Iowa. Catlett graduated in 1940, one of three to earn the first masters in fine arts from the university, and the first African-American woman to receive the degree.
After Ieaving Iowa, Catlett moved to New Orleans to work at Dillard University, spending the summer breaks in Chicago. During her summers, she studied ceramics at the Art Institute of Chicago and lithography at the South Side Community Art Center. Catlett is recognized primarily for sculpting and print work. Her sculptures are known for being provocative but her prints are more widely recognized, mostly because of her work with the Taller de Gráfica Popular.
Catlett's work can be found in major collections such as those of the Museum of Modern Art, Metropolitan Museum of Art, Library of Congress, Minneapolis Institute of Arts, and several other locations.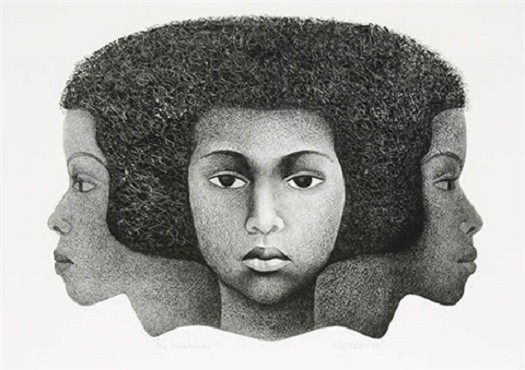 source:
https://en.wikipedia.org/wiki/Elizabeth_Catlett