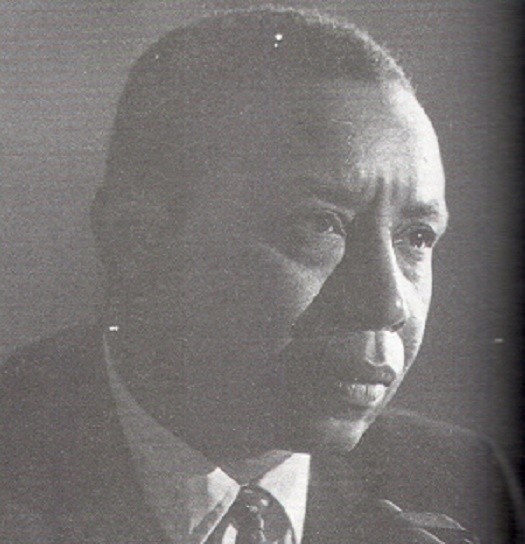 Floyd Bixler McKissick became the first African-American student at the University of North Carolina at Chapel Hill's Law School. In 1966 he became leader of CORE, the Congress of Racial Equality, taking over from James L. Farmer, Jr. McKissick was a supporter of Black Power and turned CORE into a more radical movement. In 1968, he left CORE to found Soul City in Warren County, North Carolina.
McKissick Sr. was born in Asheville, North Carolina, the son of Ernest Boyce and Magnolia Thompson McKissick. His participation with civil rights began with his NAACP membership at the age of 12. As a 13-year-old Boy Scout helping to direct traffic during a roller-skating tournament in his hometown, McKissick was pushed to the ground by a white police officer; this incident secured his involvement in civil rights. He graduated from high school in 1939, and in 1940 went to Atlanta to attend Morehouse College. After enrolling at Morehouse, McKissick joined the U.S. Army and during World War II he served in the European Theater as a sergeant. After the war, he returned to Morehouse College where he graduated in 1948.
After graduating from Morehouse McKissick decided to pursue a career in law. He returned to his native state North Carolina and applied to the University of North Carolina (UNC) School of Law. He was subsequently denied admission because of his race. After his denial, he enrolled in North Carolina College (NCC) School of Law, now North Carolina Central University (NCCU), in Durham, North Carolina, which was the law school for blacks. While in NCC's Law School, the NAACP accepted McKissick's case and filed a lawsuit against UNC. Thurgood Marshall led the defense, and in 1951, a ruling by the United States Court of Appeals allowed McKissick and three other students admission to UNC's Law School. At the time of the ruling, McKissick had already begun to earn his law degree from NCCC, but he took courses at UNC during the summer of 1951. McKissick is known as the first black student to be admitted at UNC Law School.
McKissick was involved with an early freedom ride that confronted racial segregation in interstate transportation in the 1947 Journey of Reconciliation. He was the president of the Atlanta University chapter of the Progressive Party during his time at Morehouse College, a participant in voter registration, and also a supporter of Henry Wallace's 1948 presidential campaign.
In 1957, McKissick along with Nathan White Sr. headed The Durham Committee on Negro Affairs' Economic Committee, developed plans to boycott the Royal Ice Cream Parlor in Durham, NC. Under the leadership of McKissick, twenty high school NAACP members acted in regular pickets outside of the Royal Ice Cream Parlor. Carolina Theater Desegregation Durham, North Carolina, 1961. After leaving CORE, McKissick launched a plan to build a new community, Soul City, in Warren County North Carolina on 500 acres of farmland. McKissick states," Soul City was an idea before the movement. Soul City, however, ran into difficulties and despite McKissick's best efforts, the project never developed as he had hoped.
Floyd McKissick was appointed a state district court judge in the Ninth Judicial District in North Carolina, in June 1990 by Republican Governor James G. Martin. Less than a year after being appointed, while also working as pastor of the First Baptist Church of Soul City, McKissick died of lung cancer at the age 69 on Sunday, April 28, 1991.
source:
http://www.blackpast.org/aah/mckissick-floyd-b-1922-1991