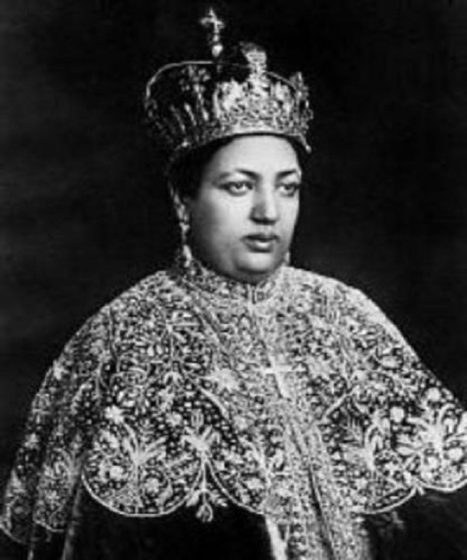 Empress Menen Asfaw (Baptismal name Walatta Giyorgis) was the Empress consort of the Ethiopian Empire. She was the wife of Emperor Haile Selassie.
Menen was born Itege Menen Asfaw In Ambassel on April 3, 1889. She was the daughter of Asfaw, Jantirar of Ambassel. Her maternal grandfather was Negus Mikael of Wollo and her uncle was Emperor Iyasu V (Lij Iyasu).
She married in early August of 1911. She was 20-years-old and the future Emperor was very impressed by her character and friendly disposition. Over time, Empress Menen Asfaw gave husband, Emperor Haile Selassie six children; Princess Tenagnework, Prince Asfaw Wossen, Princess Tsehai, Princess Zenebework, Prince Makonnen and Prince Sahle Selassie. When Haile Selassie became Emperor of Ethiopia his wife was crowned Empress alongside him. As consort, Empress Menen was very active and undertook a number of charitable duties focused on women, children and religious issues. The Empress also supported numerous charitable causes for the poor, the infirm and the handicapped.
Empress Menen Asfaw also served as Patroness of the Ethiopian Red Cross, and the Ethiopian Women's Charitable Organization. She was also a patroness of the Jerusalem Society that arranged for pilgrimages to the Holy Land. She founded the Empress Menen School for Girls in Addis Ababa, the first all-girls school which had both boarding and day students. She gave generously from her personal funds towards the building of the new Cathedral of St. Mary of Zion at Axum but did not live to see it completed and dedicated.
Empress Menen Asfaw died on February 15, 1962, and was buried in the imperial crypt at the Holy Trinity Cathedral.
source:
http://madmonarchist.blogspot.com/2010/01/consort-profile-empress-menen-asfaw-of.html