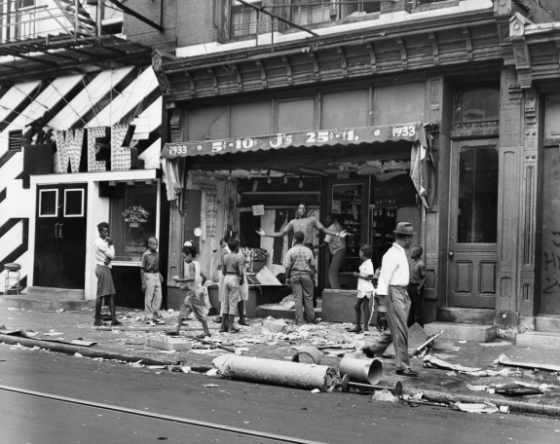 On Friday, August 28, 1964, a scuffle with police at the busy intersection of Twenty-Second Street and Columbia Avenue sparked a three-day riot involving hundreds of North Philadelphians hurling bottles and bricks at police and looting stores. With the Columbia Avenue Riot, Philadelphia joined six other cities, including Jersey City, Paterson, and Elizabeth, New Jersey, that erupted in African American protest during July and August 1964.
At 9:20 on that August night in 1964, two Philadelphia police officers ordered a married couple to move their car from the intersection at Twenty-Second and Columbia Avenue (the street later renamed for civil rights leader Cecil B. Moore). The ensuing scuffle touched off a rumor that the police had beaten and possibly killed a pregnant African American woman. Rioting spread through an area of North Philadelphia that the local press and the police establishment since the mid-1950s had designated "the Jungle" for its entrenched poverty and high crime rates. Like other "ghettos," the area of Poplar, Lehigh, Tenth, and Thirty-Third Streets also was racially segregated; by 1960, it was 69 percent African American.'
The riot reflected longstanding popular anger at the Philadelphia Police Department and growing divisions among African Americans over a recent shift to more confrontational street protests. On the first night, crowds of young men and women ran along Columbia Avenue, smashing the windows and taking the merchandise almost exclusively from white-owned stores. The busy commercial strip in the heart of North Philadelphia was lined with taprooms and small shops, the vast majority owned by Jewish merchants who sold groceries, appliances, and furniture. One group tossed a garbage can through a squad car window. Crowds pulled prisoners out of police wagons. An activist with the National Muslim Improvement Association led chants of  "We want freedom, we want justice!" Directing the crowd's anger at Cecil B. Moore (1915-79) for failing to deliver promised reforms despite militant mass protests, one local resident declared, "We don't need Cecil Moore.
source:
original article found at: