Robert Johnson was a master at singing the Delta Blues and playing the guitar, as his landmark recordings displayed a combination of singing, guitar skills, and songwriting talent that has influenced generations of musicians.
Johnson was born in Hazlehurst, Mississippi, around 1911, to Julia Major Dodds and Noah Johnson. Julia was married to Charles Dodds, a prosperous landowner and furniture maker. Johnson was one of ten children. Charles Dodds had been forced by a mob to leave Hazlehurst following a dispute with white landowners. Julia Dodds left Hazlehurst with baby Johnson. but after  two years, she sent him to live in Memphis with her husband, who had changed his name to Charles Spencer.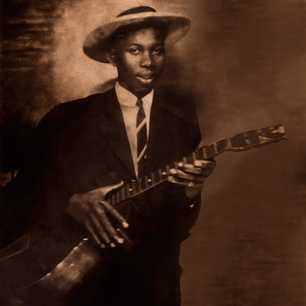 In 1919, Johnson left Memphis and moved to the Mississippi Delta to be with his mother. After school, Johnson adopted the surname of his natural father, signing himself as "Robert Johnson" on the certificate of his marriage to 16-year-old Virginia Travis in February 1929. She died in childbirth shortly after.
After Johnson left Mississippi, possibly in search of his biological father, he perfected the House of guitar and learned other styles from Isaiah "Ike" Zinnerman. Zinnerman was rumored to have supernaturally learned how to play guitar by visiting graveyards at midnight.
Johnson was known to be emotional. There were times he would play well for a while, but then pick up and walk away from everything and everyone. Sometimes, several weeks would pass before he resurfaced. It was reported that during this time, Johnson cultivated women to look after him in each town he played. He supposedly asked homely young women who lived with their families if he could go home with them; in most cases, he was permitted to do so until a boyfriend arrived or Johnson was ready to move on.
Some of Johnson's recorded songs included "Come On In My Kitchen," "Kind Hearted Woman Blues," "I Believe I'll Dust My Broom," and "Cross Road Blues." The first to be released was "Terraplane Blues" and was "Last Fair Deal Gone Down," probably the only recordings of his that he would live to hear.
Johnson died on August 16, 1938, at the age of 27, near Greenwood, Mississippi of an unknown cause. Several differing accounts have described the events preceding his death, as Johnson had been playing for a few weeks at a country dance in a town about 15 miles from Greenwood. According to one theory, Johnson was murdered by the jealous husband of a woman with whom he had flirted. In another account, by fellow blues legend Sonny Boy Williamson, Johnson had been flirting with a married woman at a event during which she gave him a bottle of whiskey poisoned by her husband.
sources:
http://www.biography.com/people/robert-johnson-9356324
https://en.wikipedia.org/wiki/Robert_Johnson