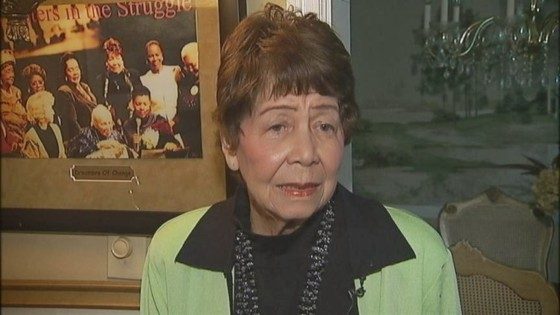 Evelyn G. Lowery was a civil rights activist and leader. In the 1950s, with her husband activist Rev. Joseph Lowery, she demonstrated against segregation in Mobile and Birmingham, Alabama. She participated in the Selma to Montgomery March for black voting rights in 1965 and almost 20 years later, she marched from Alabama to Washington, D.C to encourage the extension of the Voting Rights Act.
Evelyn Gibson Lowery was born in Memphis, Tennessee on February 16, 1925, and was the daughter of activists Rev. Dr. Harry and Evelyn Gibson. They provided her with the inspiration that became the foundation for a lifetime of involvement in human rights at both the national and international levels. Her father served as president of the Memphis chapter of the NAACP and her mother was involved in community organizations. She attended Clark College and Youngstown University.
Lowery founded SCLC/Women's Organizational Movement for Equality Now, Inc. (W.O.M.E.N.), the sister organization of the Southern Christian Leadership Conference. The organization was formed to champion the rights of women, children, families, and responding to the problems of the disenfranchised regardless of ethnicity, gender, age, or religion in 1979.
She was also responsible for the erection of the Civil Rights Freedom Wall in Perry County, Alabama,  and monuments honoring movement icons such as Viola Liuzzo, John Lewis, and Hosea Williams.
In 2004 Lowery was herself honored at the International Civil Rights Walk of Fame at the Martin Luther King Jr. National Historic Site, located in Atlanta, Georgia. She died on September 26, 2013; she was 88.
Sources:
http://wclk.com/post/sclc-women-honor-evelyn-lowery-michelle-obama-sybrina-fulton-drum-majors-justice
http://www.spokeo.com/Evelyn+G+Lowery+1