Ira Aldridge was the first internationally famous African-American actor.  He became a renowned interpreter of Shakespearean tragedy on the European stage.
Aldridge was born on in 1807, in New York City and was the son of Lurona and Daniel Aldridge. His father, a Presbyterian minister worried about his son's interest in the theater and sent him abroad in his teens to the University of Glasgow. But the lure of the stage took him to London when he was twenty, he played Othello at the Royalty Theater.
He later attended the African Free School and, in the early 1820s, began his acting career during his teens with the African Grove Theater, also known as the African Theater. Aldridge later toured England and the continent with great success as "Othello." For forty years he performed as a star in all the major European cities. To attend one of his shows, tickets had to be booked well-in-advance.
Aldridge also spoke out against slavery, contributing financially to abolitionist causes and incorporating songs of freedom into his performances. Aldridge never returned to the United States. At the age of sixty he was still a well-known name. He died on tour in 1867 in Lodz, Poland.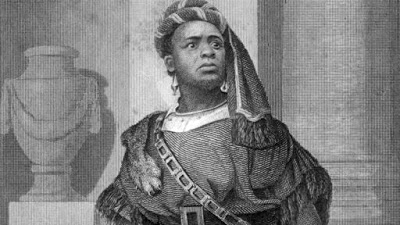 source:
http://www.arogundade.com/ira-frederick-aldridge-first-black-actor-to-play-shakespeares-othello.html