George Washington and his wife Mary Jane founded the plat that established the town of Centerville, later renamed Centralia, in Lewis County in Southwest Washington. Washington, a pioneer from Virginia and the son of an African-American slave and a woman of English descent.
Washington was born in Frederick County, Virginia, on August 15, 1817. His father was sold and taken from the area soon after Washington's birth. His mother then left him to be raised by a white couple Anna and James Cochran. While Washington was still a child the family moved to Ohio and then to Missouri.
As Washington grew older, he was quite business minded. He tried his luck with opening several businesses but was frustrated by the strict discriminatory laws. By 1850, he decided to move further west in hopes of finding more freedom. The Cochrans decided to go along with him, they first settled in Oregon City, and later they crossed the Columbia River into what would be known as Washington Territory.
In 1852, Washington began a claim where the Skookumchuck River joins the Chehalis River, becoming the fourth settler in the area where he would later found the town of Centralia. The spot had long been a home of the Chehalis Indians, and Washington recognized the river junction as a prime spot for a settlement. He cleared land, built a cabin, and began farming.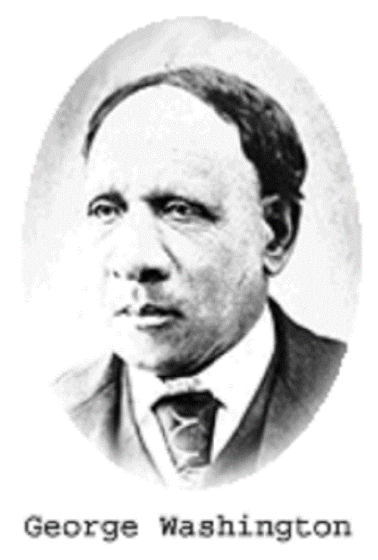 However, there was a law in Oregon Territory that barred settlement by African-Americans at the time. Washington had James and Anna Cochran file a claim under the Donation Land Claim Act for 640 acres in the area. When the claim was proved up by four years residence, and Washington Territory, which did not bar African American ownership, had come into existence, the Cochrans deeded the property to Washington.
Long after his adoptive parents had died, Washington met and married Mary Jane Cooness, a widow of African-American and Jewish descent. They recognized that their land would be a central point on the railroad between Kalama, on the Columbia, and Tacoma, on the Sound, and decided to start a town on the site.
On January 8, 1875, the Washington's filed the plat for their town, which they called Centerville, at the Lewis County courthouse in nearby Chehalis. The initial plat consisted of four blocks platted into lots, which Washington offered for sale at $10 per lot to anyone who would settle in the town. The name was changed in 1886 to Centralia.
By 1889, when Washington Territory became a state, the population of Centralia was nearing 1,000. Those were boom times, and within little more than a year, the population had climbed to more than 3,000. By 1891, George Washington had sold 2000 lots. He stayed active and involved in business and civic affairs until shortly before his death on August 26, 1905, 11 days after his 88th birthday.
http://www.cityofcentralia.com/Page.asp?NavID=136
https://en.wikipedia.org/wiki/Centralia,_Washington