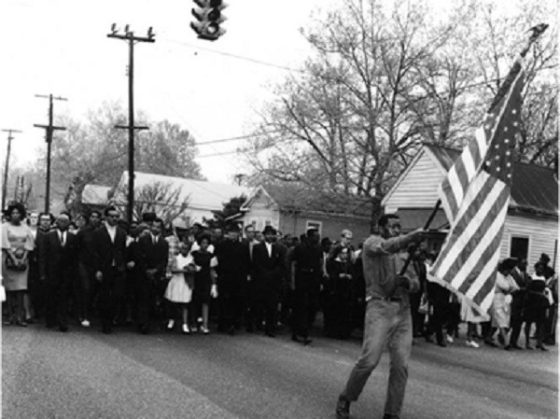 The Neighborhood Organized Workers (NOW) was a civil and economic rights organization founded in Mobile during the late 1960s and early 1970s. NOW organized mass marches, boycotts, and large public protests to lobby for its goals of economic improvement in Mobile's black communities and greater minority representation in local politics.
The summer of 1966, civil rights activists began holding informal meetings in the home of a well-known activist, Dorothy Williams. Williams had previously attempted to establish a branch of the Southern Christian Leadership Conference (SCLC) in Mobile. The group decided to form a new organization, which they conceived initially as an effort to mobilize neighborhood cleanup projects and promote "human dignity" through economic improvement.
A white reporter, David Underhill, for the Southern Courier, a Montgomery-based civil rights newspaper, suggested the name Neighborhood Organized Workers. David Jacobs, a local educator, was elected the first president, and the organization began to lobby Mobile politicians on behalf of the black residents who lived in areas targeted for urban renewal projects.
Shortly after Dr. Martin Luther King, Jr., was assassinated, the first major confrontation between NOW and Mobile politicians was organized. NOW petitioned the city for a permit to hold a memorial march. The city denied the request and also instituted a curfew, hoping perhaps to avoid the type of violent outbreaks occurring in other cities. On April 7, 1968, NOW marched through the city without a permit, led by members Jerry Pogue and James Dixon, who walked slowly ahead of the marchers carrying the American and Christian flags. By the time they reached the city auditorium, some two miles later, an estimated 7,000 supporters, white and black, had joined in the solemn march. It was the first mass march in the city's history, and it set the stage for even greater confrontations between NOW and Mobile's white leaders.
After the march, NOW headed in a new direction under the new leadership of Noble Beasley. Beasley, a Mississippi native who owned a nightclub on the outskirts of the city and who embraced a more militant philosophy than did Jacobs. Soon after the shift in leadership, NOW began picketing school board meetings and organized an economic boycott of downtown businesses for the Christmas season. In June 1968, NOW announced a boycott of the recently opened Mobile Municipal Auditorium as a way of protesting the lack of African American managers at the facility.
In 1969, Noble Beasley and James Finley, a prominent black pharmacist and NOW's vice president, were indicted on trumped up charges of murder. Although the case was dismissed, other legal battles soon followed, all of which NOW and many members of Mobile's black community alleged to be politically motivated by white politicians.
source:
http://www.encyclopediaofalabama.org/article/h-3104