Early Life
Born on January 5, 1931, in Rogers, Texas, Alvin Ailey became one of the leading figures in 20th century modern dance. His mother was only a teenager when he was born and his father left the family early on. He grew up poor in the small Texas town of Navasota. Ailey later drew inspiration from the black church services he attended as well as the music he heard at the local dance hall. At the age of 12, he left Texas for Los Angeles.
In Los Angeles, Ailey proved to be a gifted student in many ways. He excelled at languages and athletics. After seeing the Ballet Russe de Monte Carlo perform, Ailey was inspired to pursue dancing. He began studying modern dance with Lester Horton in 1949. He joined Horton's dance company the following year.
Career Highlights
In 1954, Ailey made his Broadway debut in Truman Capote's short-lived musical House of Flowers. The following year, he also appeared in The Carefree Tree. Ailey served as the lead dancer in another Broadway musical, Jamaica, starring Lena Horne and Ricardo Montalban in 1957. While in New York, Ailey also had a chance to study dance with Martha Graham and acting with Stella Adler.Ailey achieved his greatest fame with his own dance company, which he founded in 1958. That same year, he debuted Blues Suite, a piece that drew from his southern roots. Another of his major early works was Revelations, which drew inspiration from the African American music of his youth. The blues, spirituals and gospel songs all informed this dance piece. According to the Alvin Ailey American Dance Theater website, Revelations came from Ailey's "'blood memories' of his childhood in rural Texas and the Baptist Church."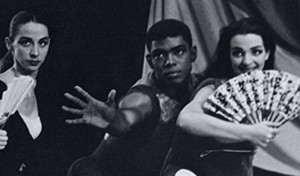 In the 1960s, Ailey took his company on the road. The U.S. State Department sponsored his tour, which helped create his international reputation. He stopped performing in the mid-1960s, but he continued to choreograph numerous masterpieces. Ailey's Masakela Language, which probed the experience being black in South Africa, premiered in 1969. He also formed the Alvin Ailey American Dance Center—now called the Ailey School—that same year.In 1974, Ailey used the music of Duke Ellington as the backdrop for Night Creature. He also expanded his dance company by establishing the Alvin Ailey Repertory Ensemble that same year. During his long career, Ailey choreographed close to 80 ballets
 Final Years
In 1988, Alvin Ailey was honored by the Kennedy Center for his contributions to the arts. This prestigious accolade came near the end of his life. Ailey died at the age of 58 on December 1, 1989, at Lenox Hill Hospital in New York City. At the time, The New York Times reported that he had suffered from "terminal blood dyscrasia, a rare disorder that affects the bone marrow and red blood cells." It was later revealed that Ailey had died of AIDS.The dance world mourned the passing of one of its great pioneers. Alvin Ailey "had a big heart and a tremendous love of the dance," dancer Mikhail Baryshnikov told The New York Times, adding, "His work made an important contribution to American culture."Despite his untimely death, Ailey continues to be an important figure in the arts through the ballets he created and the organizations he founded. The dancers with the Alvin Ailey American Dance Theater have performed for more than 20 million people around the world and countless others have seen their work through numerous television broadcasts.
Alvin Ailey – Revelations (TV-14; 3:06) Alvin Ailey choreographed "Revelations" when he was just 29 years old. The ballet premiered on January 31st, 1960 and has become a masterpiece of American dance. Video courtesy of the Alvin Ailey American Dance Theater.
article found @http://www.biography.com/people/alvin-ailey-9177959#synopsis