Edith McGuire became one of the top sprinters of the 1960s, winning six Amateur Athletic Union (AAU) championships and an Olympic Gold medal in Tokyo, Japan in 1964.
McGuire was born in Atlanta, Georgia. She attended Archer High School in Atlanta and was coached by Marian Armstrong-Perkins of David T. Howard High School. McGuire excelled at academics and sports; she was consistently on the honor roll. At the age of 15, she defeated the top prep-school sprinter in Atlanta.
McGuire ran for Tennessee State University (TSU). Tennessee State had a very successful women's sprinting team in the 1960s, known as The Tigerbelles, which included Olympic champions Wilma Rudolph, Wyomia Tyus, and McGuire.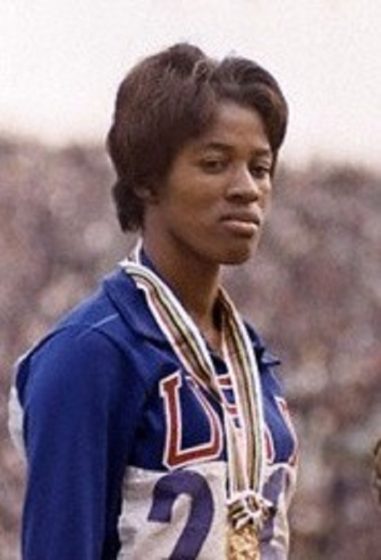 McGuire's career highlight came during the 1964 Tokyo Olympics. She finished in second place in the 100 meters, placed first in the 200 meters, and set a new world record of 23 seconds. McGuire also won a silver medal as part of the 400-meter relay team with Tyus and two other Tigerbelles.
She graduated from TSU in 1966 with a degree in elementary education. McGuire later moved to Oakland, California, where her and her husband owned three McDonald's franchises. McGuire has been involved in helping underprivileged children in Oakland as well as in Detroit.
Edith McGuire retired from track in 1966 and was subsequently honored by inductions into the Tennessee Sports Hall of Fame, the Track and Field Hall of Fame (1979), and the Georgia Sports Hall of Fame.
In recognition of her Olympic achievements, McGuire was a top ten finalist for the Sullivan Award. Established by the AAU in 1930, the Sullivan Award is presented annually to the amateur athlete chosen as doing the most "to advance the cause of sportsmanship." She also came in fourth in the national ballot for Sportswoman of the Year. Atlanta mayor Ivan Allen Jr. declared January 29, 1965, as Edith McGuire Day, and the Atlanta Chamber of Commerce awarded McGuire the Native Daughter Trophy.
sources:
Ennis, Lisa A. "Edith McGuire (b. 1944)." New Georgia Encyclopedia. 19 April 2016. Web. 25 July 2016.
https://en.wikipedia.org/wiki/Edith_McGuire