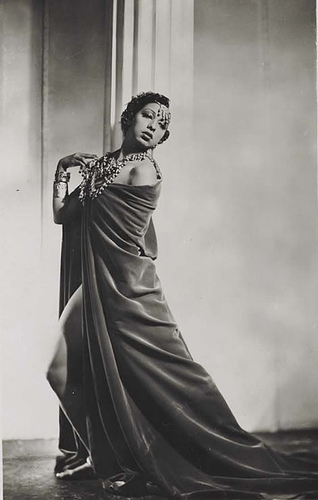 At Black Then, we frequently see interesting photos that give us a glimpse into the past. They tend to show us a piece of black history that is often not covered in textbooks, in history classes, or shown in the media.
In a photo that we found on Black History Album , we see this great image called "Josephine Baker in En Super Folies, 1937" .
Given the nicknames "Black Venus," "Black Pearl," "Creole Goddess," as well as "La Baker" in her adopted country of France, Josephine Baker was known as the "It girl who danced her way through the 20's and 30's only dressed in bananas." A dancer, singer, actress and a comedian all in one, Josephine Baker is noted for being the first woman of African descent to star in a major motion picture, to integrate an American concert hall, and to become a world famous entertainer.  She was a star of stage, screen, and recordings, as well as a civil rights activist and an honored military woman during World War II.
Want to know more about Black History? Visit Discover Black Heritage.
Found On Flickr.com in Black History Album