In 1804, a mass killing occurred in Haiti. The Haitian Massacre was an organized cleansing that was carried out against the remaining white population of French Creoles by the order of Jean-Jacques Dessalines. The massacre, which took place in the entire territory of Haiti, was carried out from early February 1804 until April 22, 1804, and resulted in the deaths of between 3,000 and 5,000 people of all ages and genders.
Soldiers went from door to door, torturing and killing entire families. Whites who had been cordial and helpful towards the black population were also killed. The second wave of murders followed, during which all white women and children were killed. The argument for killing the women was that whites would not truly be eradicated if the white women were spared to give birth to new Frenchmen.
One of the most notorious of the massacre participants was Jean Zombi, a mulatto resident of Port-au-Prince who was known for his brutality. One account describes how Zombi stopped a white man on the street, stripped him naked, and took him to the stair of the Presidential Palace, where he killed him with a dagger.
By the end of April 1804, as many as 5,000 people were dead at the hand of the Haitian people. Dessalines did not try to hide the massacre from the world.
In an official proclamation of April 8, 1804, he stated, "We have given these true cannibals war for war, a crime for crime, outrage for outrage. Yes, I have saved my country, I have avenged America."
He referred to the massacre as an act of national authority. Dessalines regarded the elimination of the white Haitians an act of political necessity, as they were regarded as a threat to the peace for the black and minority population. It was also regarded as a necessary act of vengeance.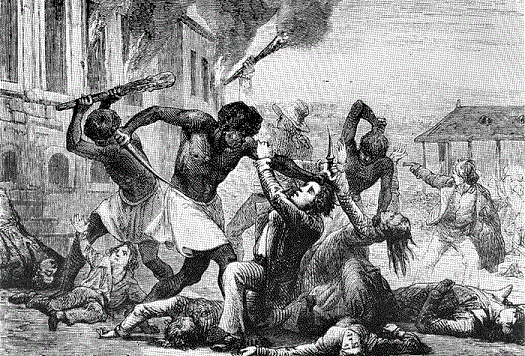 sources:
https://prezi.com/nwsh-uhp8haa/haitian-massacre/
https://en.wikipedia.org/wiki/1804_Haiti_massacre