The Hamburg Massacre of 1876 was a race riot between community's Black militia and white residents from the surrounding rural area of South Carolina during the Reconstruction. Seven men died that day, six of whom were Black militiamen or civilians.
Hamburg was a small all-black community located across the river from Augusta, Georgia. The area was solidly Republican and with the GOP in charge of Columbia, some of the men were members of the South Carolina National Guard.
On the fourth of July 1876, two white farmers from Edgefield County, Thomas Butler and Henry Getzen, attempted to take their carriages and drive through the town along the main road. However, they were stopped by the all-black Militia that was engaged in a military exercise. The two farmers were still able to get through after arguing with the men, but the tension was high.
Two days later, the men hired a lawyer and took out a formal complaint in the local court in Hamburg, which demanded that the Hamburg militia company be disbanded. However, by this time, hundreds of armed white men, including many who were members of various rifle clubs, descended upon the small black community. Militia members retreated to a stone warehouse that they used as their armory.
Sometime during the afternoon, a battle ensued. By mid-afternoon, a white attacker and a militiaman were killed, and members of the militia were wounded. Hamburg's Town Marshal, James Cook, attempted to flee. Unfortunately, Cook was killed and the rest of the militiamen were captured. Four men were intermediately executed by the white mob, and the townspeople were allowed to escape.
During the Fall election, Wade Hampton ran for governor as a Democrat. He won the election and ended Reconstruction in South Carolina.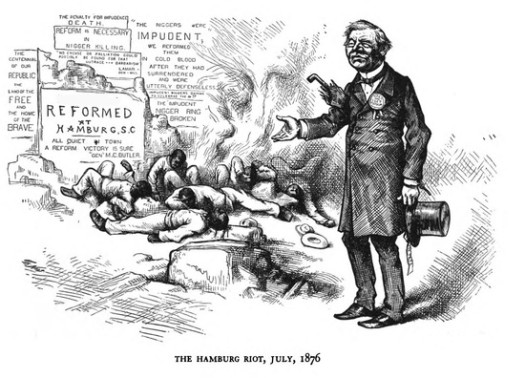 source:
http://www.blackpast.org/aah/hamburg-massacre-1876