During the 1940s and 1950s, Ferriday, Louisiana, was the happening spot. It was the location of the boogie-woogie night club known as Haney's Big House. Big name entertainers and singers frequented the location, and people would travel from miles away just to see and hear them perform. The small community was not just home to Haney's Big House, but other to black-owned businesses, as well.
One block away, Frank Morris owned a shoe shop. Will Haney, owner of Haney's Big House, was friends with Morris. Morris lost his shop and his life in Ferriday.  About three years later, Haney's Big House also burned to the ground in a massive fire that took out nearly the whole block. The cause of the fire was never truly known, but the black community suspected the hatred of the Ku Klux Klan destroyed the business and took the only place they had for enjoyment.
Haney started his career as an insurance salesman after returning from World War I. He served in the Army, where he earned rank as First Sergeant. He was very good at his job and was able to deal with some of the insurance companies top officials.
Haney worked hard for the little success he had. He overcame great obstacles to succeed and even gained the respect of some whites throughout the community. But at the same time, the Ku Klux Klan was making life difficult for just about every black person. Even though times were difficult for the African-American community in Ferriday, they could always turn to "Haney's Big House" for good music and socialization until it was burned to the ground.
In addition to Haney's Big House, Haney also operated a motel, had rental properties, and managed other businesses. It is believed that Haney breathed life into Ferriday's music scene, which continues to be a big part of the city today.
Haney never rebuilt the club after the 1966 fire. As the years went by, the good times at the club became faded memories to everyone.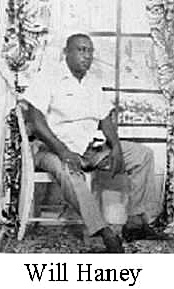 source:
http://www.msbluestrail.org/blues-trail-markers/ferriday-la
http://www.underthehillsaloon.com/custom/webpage.cfm?content=News&id=56