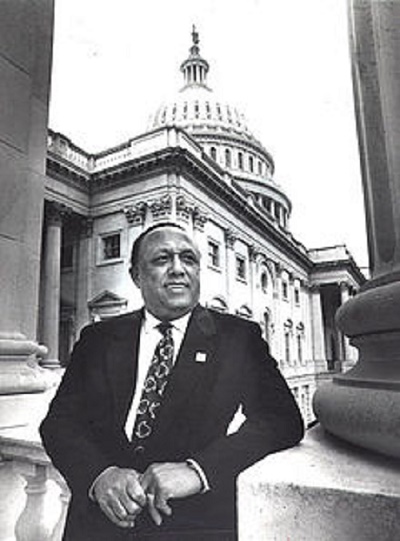 Lucien Edward Blackwell was a United States Congressman who represented West Philadelphia and parts of Delaware County, Pennsylvania, from 1991 to 1995.
Blackwell was born in Whitsett, Pennsylvania on August 1, 1931. He completed public school and later joined the United States Army, serving in the Korean war in 1953. While serving in the army, Blackwell was a boxing champion.
From the early 1970s to 1990s, Blackwell was a powerful Philadelphia union leader. He served as president of the Local 1332, International Longshoremen's Association. From his beginning as a union leader, Blackwell worked his way through the ranks and was eventually elected to the United States House of Representatives. His professional political career began when he was elected to the Pennsylvania House of Representatives, where he served from 1973 to 1975.
While serving on the Council, Blackwell served several terms as Chairman of the Finance Committee, where he led the charge to divest pension funds from businesses doing business in South Africa. Blackwell also sponsored the Philadelphia's first law to create opportunities for minorities and women to compete to obtain city contracts.
He was elected as a Democrat to the One Hundred Second Congress by special election to fill the vacancy caused by the resignation of Representative Bill Gray, and was reelected to the succeeding Congress. In Congress, Blackwell was a member of the United States House Committee on the Budget and a reliable advocate for President Bill Clinton's economic policies. Lucien Blackwell died in 2003, he was 71.
sources:
http://www.blackpast.org/aah/blackwell-lucien-e-1931