Emile Alphonse Griffith was a professional boxer from the U.S. Virgin Islands who became a World Champion in the welterweight, junior middleweight and middleweight classes. His best known contest was a 1962 title match with Benny Paret.
Griffith was born on February 3, 1938 in St. Thomas, Virgin Islands.
He turned professional in 1958 and fought frequently in New York City. He captured the Welterweight title from Cuban Benny "The Kid" Paret by knocking him out in the 13th round on April 1, 1961. Six months later Griffith lost the title to Paret in a narrow split decision. Griffith regained the title from Paret on March 24, 1962 in the controversial bout after which Paret died.
In 1963 and 1964, Griffith was voted Fighter of the Year by The Ring magazine and the Boxing Writers Association of America. In 2002, He is listed #33 on Ring Magazine's list of 80 greatest fighters of the past 80 years.
In 1992, Griffith was viciously beaten and almost killed on a New York City street after leaving a gay bar near the Port Authority Bus Terminal. He was in the hospital for four months after the assault.
Griffith died July 23, 2013, at a care facility in Hempstead, New York. In his final years, he required full-time care and suffered from dementia pugilistica.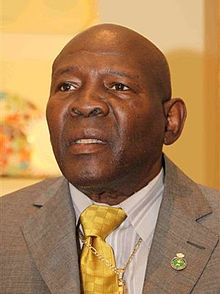 source:
https://en.wikipedia.org/wiki/Emile_Griffith