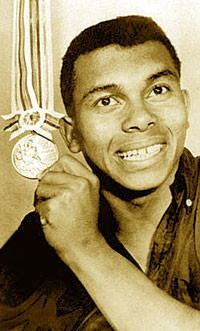 Long before Ben Johnson or Donovan Bailey, Harry Jerome was Mr. Canada and the world's fastest man and one of our best-known athletes despite an injury-prone career.
Jerome was born in Prince Albert, Saskatchewan, and as a young boy moved to North Vancouver at age 12. Jerome earned a master's degree in physical education (University of Oregon).
He competed at the university level for Bill Bowerman at the University of Oregon. Jerome also competed for Canada in 1960, 1964, and 1968 Summer Olympics, winning 100-meter bronze in 1964. In 1966, at the Commonwealth Games, he won his first gold medal. During his athletic career, Jerome set a total seven world records, including tying the 100 meters in 10.2, 10.1 and finally 10.0 seconds in 1960, tying a record established a month earlier by Germany's Armin Hary. Later he set the world record for the 100-yard dash at 9.2, making Jerome one of the few athletes to own both the 100 yard and 100-meter world record simultaneously.
Jerome retired from athletics in 1969, but during this time, he was invited by Prime Minister Pierre Trudeau to help create Canada's new Ministry of Sport. Jerome held a number of senior positions in the ministry but resigned over the government's cancellation of a large-scale public-private partnership he had negotiated with Kellogg's to promote youth participation in athletics.
In 1970, Jerome was made an Officer of the Order of Canada. Harry Jerome died of a brain aneurysm in December 1982, at the age of 42. His sister, Valerie Jerome, was also an Olympian who competed for Canada at the 1960 Summer Olympics in Rome.
sources:
https://en.wikipedia.org/wiki/Harry_Jerome