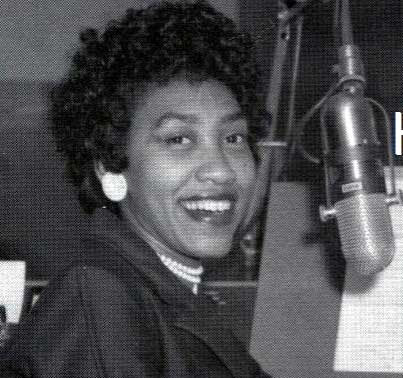 Hattie Leeper was just a teenager working odd jobs at WGIV-AM when she became the first African-American woman on Charlotte radio in the 1950's. She was known as "Chatty Hattie," to an integrated Charlotte audience during her years as the top-rated disc jockey at WGIV.
Leeper's interest in radio began at an early age. By the time she was fifteen, she was an errand girl for the DJ's at radio station WGIV. One day, one of the DJ's showed up drunk, crashing his car as he arrived at the station's studio. Leeper had to stand in for the DJ and that is how her career first got started, playing records on the air.
Initially, Leeper was afraid to speak much between the records that she soon got over that and became known as 'Chatty Hattie.'  After she finished high school, she was officially appointed to a DJ's post at the station, making her the first black female DJ at WGIV.  She was the best known and top rated DJ at the station for a long period of time. It was 'Chatty Hattie' that drew up the station's singles charts on numerous occasions.
One chart 'Chatty Hattie' compiled was in August 1964 which included: The Supremes, Jerry Butler, Gene Chandler, Bobby Bland, Solomon Burke, Otis Redding, Garnett Mimms, the Beatles, Marvin Gaye and the Impressions who topped it. In addition to their Top 40 chart, the station also selected ten hit picks to play on rotation (calling them their 'Heavy concentration Spins'). In August 1964 one of those singles was Kenny Hamber's "Show Me Your Monkey." So his track got heavy exposure in North Carolina for a few weeks that summer.
WGIV managed to be a cutting edge concern through up until 1967. After working at WGIV for several years, Leeper went on to become a record producer and even ran her own record label. Leeper won numerous awards, including a spot in the N.C. Association of Broadcasters' Hall of Fame.
sources:
Video: YouTube
http://www.wbtv.com/story/29679557/charlottes-broadcast-hall-of-fame-expanded-after-race-controversy
http://www.thecharlottepost.com/index.php?src=news&refno=871&category=Life%20and%20Religion