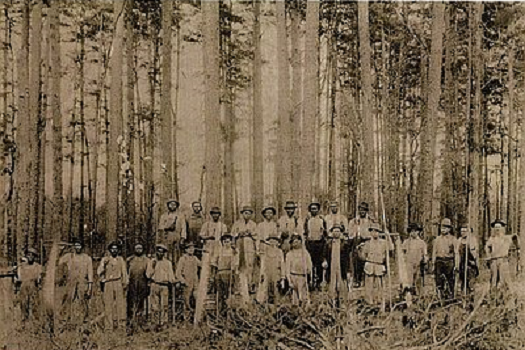 Maxville, in northeast Oregon east of the town of Wallowa, was home to African American loggers at a time when Oregon's constitution included a provision excluding blacks from the state. Maxville had a population of about 400 residents, 40 to 60 of them African American. It was the largest town in Wallowa County between 1923 and 1933.
The Bowman-Hicks Lumber Company, based in Missouri, recruited experienced loggers from throughout the South and Midwest for the Maxville logging operation, and most of them traveled by rail—in boxcars—to Wallowa County. Initially, Logging Camp #5 housed the loggers near Wallowa. The company built a new town for the loggers and their families, both white and black, at nearby Bishop's Meadow. Originally named Mac's Town, after Bowman-Hicks superintendent J.D. McMillan, the name was changed to Maxville.
Maxville was a railroad-logging town. Because trucks were not durable or large enough to profitability haul the large Ponderosa pine logs out of the forest, the felled trees were skidded, using steam engines, steam donkeys, and field horses. Workers also used elaborate timber chutes to move logs. Company jobs were typically segregated based on ethnic origin. Black workers felled the trees in teams, using cross-cut saws, and many had experience as log loaders, log cutters, railroad builders, tong hookers, and section foremen.
Because of the Great Depression and the consequent long downturn in the lumber market, business in Maxville began to decline. When the logging operation ceased, Bowman-Hicks closed the town in 1933. Several of the African American families moved to Wallowa while others migrated to nearby La Grande or to Portland. Those remaining in the area by the early 1940s left to work in the Kaiser Shipyards in Portland and Vancouver, Washington.
Blacks who stayed in northeast Oregon found jobs in janitorial services, on the railroads, and as blacksmiths and mechanics. Other families migrated to California to continue work in the logging industry. A small number of loggers continued to work in Maxville until the mid-1940s, when a severe winter storm destroyed most of the remaining structures.
source:
http://www.blackpast.org/aaw/maxville-oregon-1923-194
https://oregonencyclopedia.org/articles/maxville/#.WojdC-dG2M9