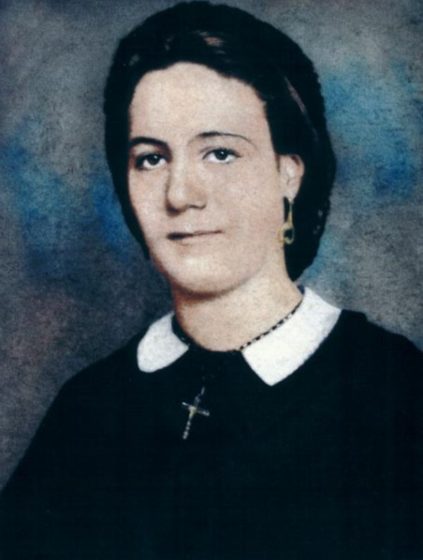 Henriette Delille was born on March 11, 1813. She was a Creole abolitionist and religious leader. She was said to have been born to one of the oldest families of free color in New Orleans.
Delille was the daughter of Jean Baptiste Delille-Sapry and Pouponne Dias. Her mother was a quadroon and the mistress of her father who was a well-known aristocrat.
As many young quadroon women during the time, Delille, was trained from an early age to be acquainted with French literature, to have a refined taste in music and to be able to dance gracefully. Her mother also taught her nursing skills and how to prepare medicines from herbs.
Delille spent her teenage years going to balls in New Orleans to meet members of upper class families. Quadroon women were expected to become mistresses of the aristocracy. However, while attending a ball, Delille was introduced to a nun, the first member of a religious community. Delille was very impressed by the nuns dedication to God. In 1836, Delille along with several other women established the "Sisters of the Presentation," which later became the "Sisters of the Holy Family." Delille drew up the rules and regulations for being devout Christian women. The groups purpose was to nurse the sick, care for the poor and instruct the ignorant.
Her brother Jean Delille was strongly opposed to her activities. He, like other members of their family, could pass for white, as they were octoroons, seven-eighths European or white in ancestry. His sister's actions within the Créole community exposed his ancestry. Estranged from Henriette, Jean Delille took his family and moved away from New Orleans to a small Créole community in Iberia Parish, Louisiana, called La Côte-aux-Puces, now known as Grand Marais.
The sisters worked among the poor, elderly, and slaves. In 1850, they founded a school for young girls and opened a hospital for needy Black people living in New Orleans in 1860. Henriette Delille died in 1862.
sources:
http://www.sistersoftheholyfamily.com/AboutHenrietteDelille.html
https://en.wikipedia.org/wiki/Henriette_DeLille