While everyone is up in arms about the discovery that Queen Bey has pores, there's another controversy brewing about a piece of apparel she wore to the NBA All-Star Game.
Beyoncé rocked a Scooter LaForge custom painted trench coat. Scooter is known for his pieces that feature caricatures, but critics of this particular artwork note that the big red lips, teeth, and bright eyes are reminiscent of the logo for Coon Chicken Inn—based on the Sambo art of the first half of the 20th century.
The resemblance between the logo and coat's image is undeniable, and you've got to wonder if Bey took note.
 So what's the history behind the racist image on Bey's coat.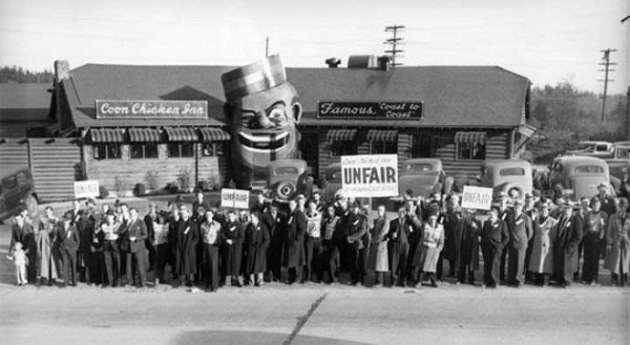 The Coon Chicken Inn was a chain of three restaurants founded by Maxon Lester Graham and Adelaide Burt in 1925 with $50.00.  The Coon Chicken Inn's famous logo was of a "Coon," or a racist caricature of an African American male rooted in nineteenth century minstrel theater and early twentieth century advertising. The restaurant's "Coon" logo wore a porter's uniform. The face was complete with a winking left eye and enlarged red lips forever gaping to expose the words "Coon Chicken Inn" etched on the rows of shining white teeth.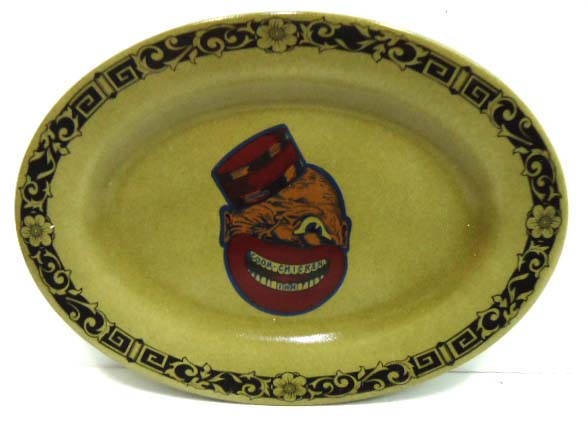 The "Coon" logo appeared on every dish, silverware piece, menu, matchbox (the image even appeared on the matchsticks!), and children's fan produced for the restaurant. The doors of the Coon Chicken Inn's delivery car were plastered with the "Coon" logo and the entrance to the restaurant itself featured a 12-foot-high "Coon head" by which patrons would enter the restaurant through a door in the head's mouth and chin.
The Coon Chicken Inn sold southern fried Coon Chicken sandwiches, and items like the Baby Coon Chicken special. African Americans were used as waiters, waitresses, and cooks but blacks weren't always invited to frequent as customers. The restaurant had a dance floor. Sometime in early July, 1927, around 6 p.m., the restaurant caught fire. However, with the help of about 50 people, the Coon Chicken Inn re-opened within days.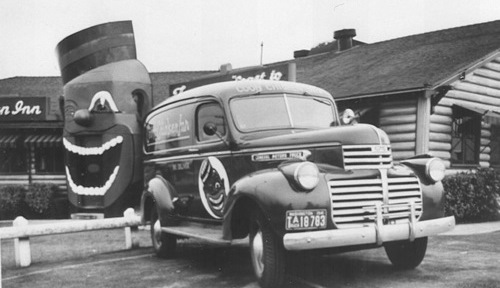 Owners Graham and Burt would open locations in Seattle and Portland with a cabaret and orchestra performing for customers.  Despite protests from the African American community, the Seattle branch remained open until late 1949.
Today, items featured at the Coon Chicken Inn restaurants are up for auction on the Black Memorabilia market.