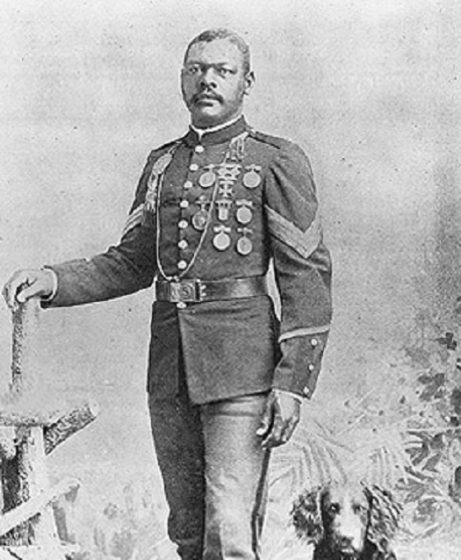 Horace Waymon Bivins was a buffalo soldier and gunner. He went to war in Cuba with the 10th Calvary. While at the Battle of Santiago, he operated a three-man Hotchkiss mountain gun alone and suffered a head wound.
Bivins was born on May 8, 1862, in Accomack County, Virginia to Severn and Elizabeth Bivins. His parents were free black farmers on Virginia's Eastern Shore. By the age of 15, Bivins knew how to farm and was in charge of an 8-horse farm near Keller Station, Virginia.
Like most young men, Bivins yearned for a life outside of farming.  He enrolled at Hampton Institute where he was introduced to military training. In 1887, he joined the U.S. Army as a private.
Bivins was ordered to Jefferson Barracks, Missouri and assigned to Troop E, 10th U.S. Cavalry. He was eventually stationed with the regiment at Fort Grant in Arizona Territory where he took part in the campaign against Geronimo during the final days of the Apache wars in the Southwest. An expert marksman, Bivins won eight medals and badges given by the War Department in shooting competitions between 1892 and 1894.
After serving in a number of posts, Bivins retired from the army in 1913. He distinguished himself as a national revolver and carbine marksmanship champion, proudly wearing his badges. Years later, he returned to active duty in 1918 upon the entry of the United States into World War I. Promoted to Captain, Bivins served at Camp Dix, New Jersey for a six-month period. He retired again in 1919 to Billings, Montana where he died in 1937.
sources:
http://www.blackpast.org/aah/bivans-horace-w-1862-1937