Her name was Harriet Beecher Stowe, and she was internationally famous for her antislavery novel, Uncle Tom's Cabin, published in March 1852. A complex work exploring family and home, religion and justice, Uncle Tom's Cabin exposed the immorality of slavery and cried for its demise. Stowe's book, originally run as a 45-part series in an abolitionist newspaper from June 5, 1851 to April 1, 1852, was a runaway success, selling 10,000 copies in a week and over 300,000 copies in the United States in its first year, despite being widely banned in the South. It became the best-selling book of the 19th century, second only to the Bible, and galvanized the abolition movement, leading to the outbreak of the Civil War. It changed public opinion, created characters still talked about, influenced ideas about equity, and fomented revolution from Russia to Cuba. A souvenir print of Harriet Beecher Stowe, 1861.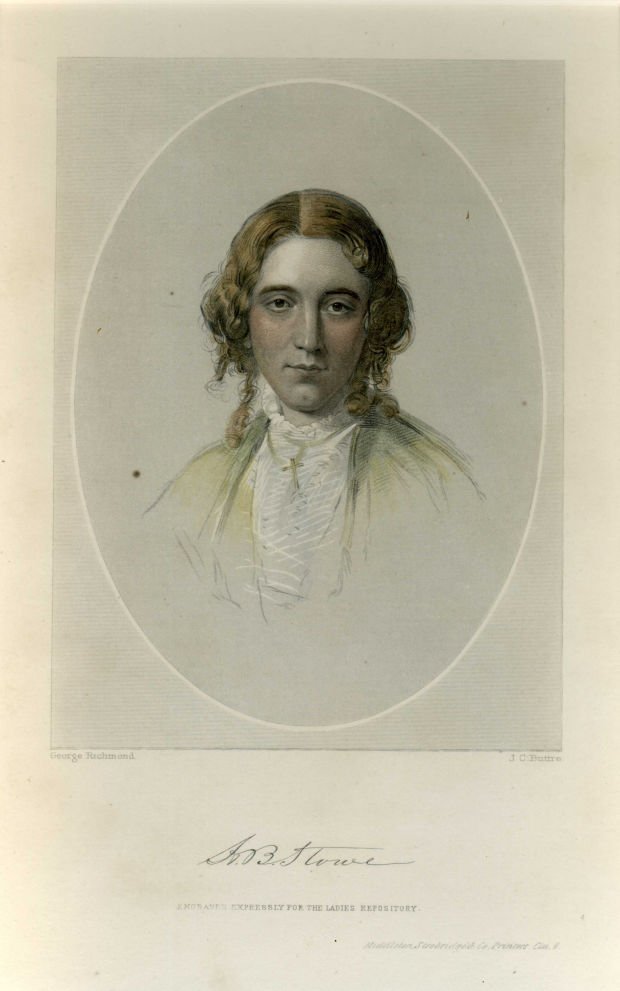 (Photo: Harriet Beecher Stowe Center, Hartford, Connecticut)
Stowe's goal was to "write something that would make this whole nation feel what an accursed thing slavery is." Her book told stories of people treated as property, personalizing slavery in a way never done before. Readers learned about Tom, so valuable that his sale redeemed his owner's gambling debts but cost Tom dearly as he was sent south away from his wife and children; and Eliza, who escaped from bondage to protect her four-year-old, Harry, from sale. One going north, one south; one enslaved and one risking all for her and her son's freedom, Stowe's characters seized the public imagination and fueled consciences stirred by the growing controversy about slavery. Everyone wanted to see the woman who had written this great book.
Read More: Harriet Beecher Stowe & "Uncle Tom's Cabin": Changing History with a Best-Seller – Biography.com