In 1936, a group that consisted of thirteen all-black women held their first meeting at the home of Helen Webb Harris. The group's intentions were not to get into country clubs, but to get on the golf course. All the golf courses but one in of Washington's public courses were restricted; blacks were not allowed. The country clubs America were off limits to almost all people of color, unless they were carrying white golfer's bags, shining their shoes, or serving food in the country club.
In 1938, the Wake Robin Club pushed the process of desegregating the public courses of the District of Columbia by drafting and sending a petition to Secretary of the Interior Harold Ickes. Ickes later approved a construction of a nine-hole course on the site of an abandoned trash dump. Then a golf course for African Americans was built on the location of an abandoned trash dump. It was not the ideal area, and it was quick difficult when golfers were trying to receive balls from under rusty equipment on the property. But African Americans were happy to have something that they could call their own.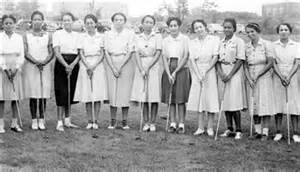 However, the group of women didn't stop their quest to start more golf courses opened to blacks. Wake Robin and the Royal Club continued to press Ickes to open up the city's other public facilities, and in 1941, he issued an order that did just that. When the doors opened at the city's other courses, some members were stoned. Children would run on the golf courses and take the balls when the golfers would hit them. Still the group continued to their political action. Wake Robin was part of the movement to force the PGA to drop its "White-only" rule for eligibility, which it did in 1961.
Today, Wake-Robin Golf Club, Inc. is a non-profit corporation that has contributed to many charitable organizations over its seventy-three plus year history. The activities and functions administered by WRGC allow the continuation of the legacy started in 1937 to foster, perpetuate and advance women's interest in golf.
source:
http://wake-robingolf.org/History.html
http://www.aaregistry.org/historic_events/view/wake-robin-golf-club-founded