Amanda E. Randolph was an American actress, singer, and musician. She was among the first African-American performers to star in a regularly scheduled television show appearing in DuMont's The Laytons.
Randolph was born in Louisville, Kentucky, and was the daughter of a Methodist minister and a teacher. She had a younger sister, Lillian, who also became an actress; and a brother, Steve Gibson, who was the leader of the Rhythm and Blues group, the Five Red Caps. At the age of 14, Randolph began earning money to help out at home by playing the piano and organ.
In 1919, she moved to Cincinnati, Ohio, where she recorded several piano rolls of hot jazz and blues music for the Vocalstyle company of Cincinnati. Randolph did her work for the company under the name Mandy Randolph. She is known as the performer of "The Yellow Dog Blues," by W. C. Handy in 1919.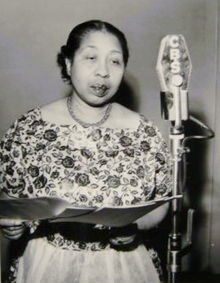 Randolph also worked on the vaudeville and burlesque circuits as a comedian and singer. In 1932, she took a break from show business to help her husband run their restaurant, "The Clam House," in New York. She later returned to performing, playing the piano at a Greenwich Village club called "The Black Cat." She later made recordings for Bluebird Records, including "Please Don't Talk About My Man," "Doin The Suzie-Q," and "Honey, Please Don't Turn Your Back On Me."
Her film career began in 1936 with Black Network, and she went on to appear in several Oscar Micheaux films. Randolph had an extensive acting career. Randolph died in 1967 at age 70.
source: