BY WALTER OPINDE
After death sentence, the Central African Republic later pardoned Jean Bedél Bokassa, the self-crowned emperor accused of cannibalism and tyranny.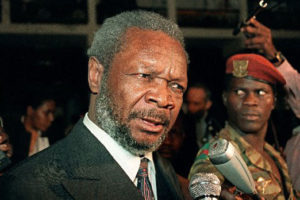 Bokassa was one of the Africa's most brutal dictators, accused of cannibalism and feeding his opponents to animals. However, after his death sentence, he later received a posthumous pardon from his country. Jean-Bédel Bokassa was the self-crowned emperor of the Central African Republic (CAR) until he was ousted in 1979. He fathered 62 children and his coronation, based on that of Napoleon, cost his country's entire GDP. He was rehabilitated by the CAR's president, François Bozizé. The president said the man who proclaimed himself "Emperor Bokassa I" had also given a great deal of lesson to the humanity, and would have all his rights restored, the BBC reported.
Jean-Bédel Bokassa, also known as Bokassa I of Central Africa or Salah Eddine Ahmed Bokassa, was a military officer and the head of state of the Central African Republic and its successor state, the Central African Empire, from his coup d'état on 1 January 1966 until overthrown in a subsequent coup (supported by France) on 20th September 1979. Of this period, he served almost eleven years as president (the last four years as president for life), and for almost three years he reigned as self-proclaimed Emperor of Central Africa, though he was a military dictator. His "Imperial" regime lasted from 4th December 1976 to 20th September 1979. Following his overthrow, the Central African Republic was restored under his predecessor, David Dacko.
Mr. Bokassa's brutal 14-year rule, including two years as his country's self-proclaimed Emperor, ended in 1979 when French paratroopers overthrew his Government while he was on an official trip to Libya. France justified its intervention in the Central African Republic by citing stories of Mr. Bokassa's supposed cannibalism of imprisoned schoolchildren. In 1986, Mr. Bokassa, who was living in exile in the Ivory Coast, returned home to face charges against him that included murder and treason. The allegations of cannibalism were never proven, but the one-time President for Life and Emperor was sentenced to death for assassinations, concealing corpses, and embezzlement of national resources. He served seven years in prison before he was finally pardoned by his successor, Andre Kolingba, in an attempt to bring national reconciliation.
On 20th September, 1979, French paratroopers deposed Bokassa and re-installed Dacko as president. He then went into exile in France where he had a château and other property bought with the money he had embezzled. After his overthrow in 1979, Central Africa reverted to its former name and status as the Central African Republic. In his absence, he was tried and sentenced to death. He returned to the Central African Republic in 1986 and was put on trial for treason and murder. In 1987, he was cleared of charges of cannibalism but found guilty of the murder of schoolchildren and other crimes. The death sentence was later commuted to life in solitary confinement, but just six years later, in 1993, he was freed. He lived a private life in his former capital, Bangui, and died in November 1996.
Read more of the story via:
https://www.theguardian.com_world_2010/dec/03/jean-bedel-bokassa-post-humous-pardon
https://www.britannica.com/biography/Jean-Bedel-Bokassa