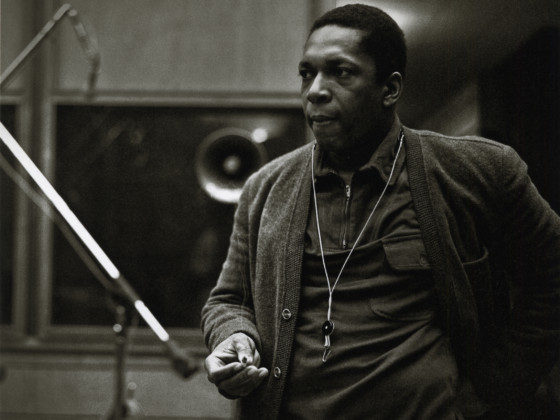 John Coltrane is remembered as a legendary and revolutionary saxophonist in the history of jazz music. His debut album "A Love Supreme" was a tribute to his victory over drug addiction. He started his own group and gained international recognition through his radical musical style, which he adopted during the mid-1960s.
Coltrane was born on September 23, 1926, in Hamlet, North Carolina. He grew up in High Point, North Carolina, attending William Penn High School (now Penn-Griffin School for the Arts). In December 1938, he lost his aunt, grandparents, and father, who all died within a few months of one another, leaving him to be raised by his mother and a close cousin.
His first professional gigs began in the early mid-194o. To avoid being drafted into the Army, Coltrane enlisted in the Navy on August 6, 1945, the day the first U.S. atomic bomb was dropped on Japan. He was trained as an apprentice seaman at Sampson Naval Training Station in upstate New York before he was shipped to Pearl Harbor, where he was stationed at Manana Barracks, the largest posting of African-American servicemen in the world.
After the Navy, he returned to Philadelphia, where he was amazed and excited by the new music "bebop" being played in the clubs. He plunged right in with the new music and began touring with King Kolax. He later joined a Philly-based band led by Jimmy Heath, who introduced Coltrane's music style to former Navy buddy, trumpeter William Massey.
Coltrane later played for groups led by Dizzy Gillespie, Johnny Hodges, and many others. During the later part of 1957 Coltrane worked with Thelonious Monk at New York's Five Spot, and played in Monk's quartet in 1957, but, owing to contractual conflicts, took part in only one official studio recording session with this group. Coltrane recorded many albums for Prestige under his own name at this time, but Monk refused to record for his old label. He also recorded with Coltrane recorded his first album as the leader for Atlantic Records, Giant Steps (1959), which contained only his compositions.
By 1960, Coltrane had formed his own quartet which included pianist McCoy Tyner, drummer Elvin Jones, and bassist Jimmy Garrison. Eventually adding players like Eric Dolphy and Pharoah Sanders. The John Coltrane Quartet created some of the most innovative and expressive music in Jazz history including the hit albums: "My Favorite Things," "Africa Brass," and " Impressions."
Today he is remembered as one of the most dominant influences on post-1960 jazz saxophonists and has inspired an entire generation of jazz musicians. He was honored by the United States Postal Service with a commemorative postage stamp. Issued as part of the musicians and composers series, this collector's item remains in circulation.  John Coltrane died of liver cancer at Huntington Hospital on Long Island on July 17, 1967, at the age of 40.
sources:
http://www.biography.com/people/john-coltrane-9254106
http://johncoltrane.com/