Born June 1929 in Rio Piedras (now a part of San Juan), Juan Evangelista Venegas Trinidad was Puerto Rico's first Olympian. He would get into boxing as a teenager idolizing Sixto Escobar, the island's first world champion. He is recruited to Puerto Rico's twelve athlete Olympic team not long afterward.
JUAN EVANGELISTA VENEGAS IN THE 1948 OLYMPICS
The 1948 Games marks the first appearance of Puerto Rico on the global stage. A great performance throughout the Games resulted in Venegas taking the bantamweight bronze medal after defeating Louis Callenboat of Belgium but lost in a bid for the silver medal to Italy's Giovanni Zuddas. The victory marks Puerto Rico's first medal in Olympic competition. This Games also marked Puerto Rico taking steps towards making its own flag years later. This was as a result of the U.S. protesting to Puerto Rico flying the American flag.
Following the London Games, Venegas returned to Puerto Rico as a hero and would begin fighting professionally. He floated between the bantamweight and featherweight divisions and had a 10-year career. At the end, his record was 20-10-2.
Passing away in 1980, Juan Evangelista Venegas would be honored in the sport. Due to his Olympic feat, he the namesake for the Juan Evangelista Venegas Boxing Tournament. The competition is meant as a testing ground for potential Olympic boxers. For all Puerto Rican athletes competing in sports represented at the Olympic Games, there's the Juan Evangelista Venegas Olympic Cup.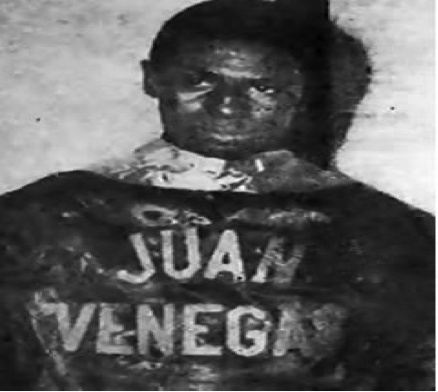 SOURCE
-http://www.puertorico.com/blog/juan-evangelista-venegas-olympic-medal-winner
-http://boxrec.com/media/index.php/Juan_Evangelista_Venegas