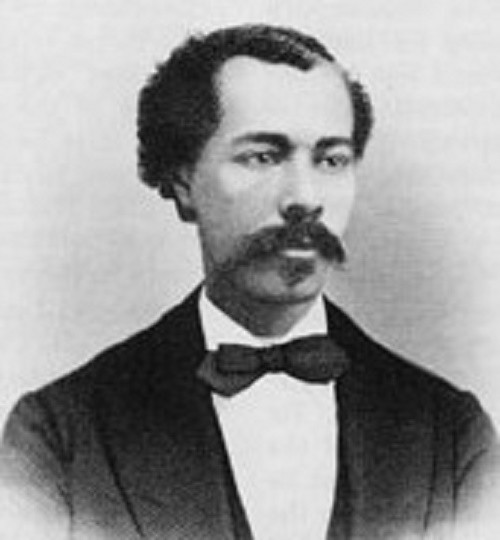 John Roy Lynch was a congressman, soldier, and author. He is best known for writing the Reminiscence of an Active Life: The Autobiography of John R. Lynch which was published posthumously in 1970.
Lynch was born in Concordia Parish, Louisiana on September 10, 1847, to Patrick Lynch, an Irish immigrant and Catherine White, a slave. Lynch's father died soon after his birth. Lynch and his mother were then traded to a plantation in Natchez, Mississippi. During the Civil War, Lynch became free when he fled the plantation to serve as a cook for the 49th Illinois Volunteer Regiment.
During Reconstruction, Lynch joined the Republican Party in Mississippi. After working as assistant secretary for the Republican State Convention, Lynch became the Justice of the Peace in Natchez County, Mississippi. In November 1869 at the age of 22, Lynch was elected to the Mississippi House of Representatives. Three years later, in 1872 he was named Speaker of the House.
Lynch ran for a seat in the United States House of Representatives in 1972. He was elected, winning more than fifty percent of the popular vote. In Congress Lynch was known primarily for his support of a civil rights measure that eventually became the Civil Rights Act of 1875. In 1884, Lynch was nominated to the honorific position of Temporary Chair of the Republican National Convention held that year in Chicago. That same year he married Ella Somerville and they had a daughter.
In 1897, Lynch passed the Mississippi Bar and opened a law office in Washington, D.C. In 1898 President William McKinley appointed Lynch a major in the U.S. Army and paymaster of volunteers during the Spanish-American War. After divorcing his wife in 1900, Lynch served in Cuba for three years and then later in Philippines, Hawaii, and San Francisco (California).
Lynch periodically practiced law in Chicago, however, he was increasingly concerned about the negative and inaccurate portrayal of blacks in Reconstruction being generated by white scholars. He became an author and historian to set the record straight. Lynch wrote The Facts of Reconstruction in 1913. He followed his book with articles in the Journal of Negro History in 1917 and 1918.
In 1922, Lynch began writing Reminiscence of an Active Life: The Autobiography of John R. Lynch. While editing his autobiography, John R. Lynch, the last surviving black congressman of the Reconstruction era, died in Chicago on November 2, 1939, at the age of 92. His book was published posthumously in 1970.
sources:
http://history.house.gov/People/Detail/17259
https://en.wikipedia.org/wiki/John_R._Lynch
http://www.blackpast.org/aah/lynch-john-roy-1847-1939