Johnnie Johnson was one of the greatest Rock & Roll  musicians and composers. He was born in Fairmont, West Virginia on July 8, 1924. By the age of 4, he already knew how to play the piano. By his twenties, he was an accomplished jazz and blues player on the club circuit in Chicago, where he apprenticed Muddy Waters and Albert King.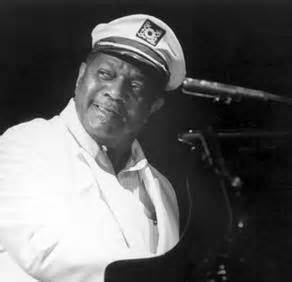 A self-taught musician, bandleader and composer, Johnson composed the riffs for many of Berry's most famous tunes, including "Maybellene," "Sweet Little Sixteen" and "Rock and Roll Music."
It was actually Johnson who gave Chuck Berry his big break. On New Year's Eve in 1952, Johnson, then fronting the his own trio in St. Louis, was stuck. His sax player fell ill and he needed an emergency replacement, so he called in his pal Berry, a promising young guitarist, to fill in. The show was a hit, Johnson asked Berry to join the band, and soon the more charismatic Berry was the front man. Their partnership produced dozens of hit songs before they parted company in 1973.
Johnson eventually fell off the radar because of alcohol issues. He was driving a bus when Rolling Stones guitarist Keith Richards tracked Johnson down during the making of the 1987 Berry documentary, Hail! Hail! Rock 'n' Roll. Johnson received little recognition until the Chuck Berry concert documentary  was released in 1987. That attention helped Johnson return to music, he returned to music to record his first solo album, Blue Hand Johnnie, that year.
Richards, convinced that Johnson should be in the rock pantheon alongside Berry, launched a high profile campaign to get Johnson into the Rock and Roll Hall of Fame. But Hall rules stipulated that a musician isn't eligible for the Rock Hall until 25 years after his/her first credited album. Johnson was inducted into the Rock and Roll Hall of Fame in 2001. Johnson influenced generations of rockers through his collaborations with Berry–everyone from Elvis Presley and Little Richard to the Beatles and the Rolling Stones. Johnson died in 2005, he was 80.
sources: