Juanita Shanks Craft was a Democratic precinct chairman from 1952 to 1975. She served for two terms on the Dallas City Council between 1975 and 1979. Throughout her civil rights career, she was visited at her home by both Lyndon Johnson and Dr. Martin Luther King, Jr. to discuss the future of the civil rights movement. With Craft's help, two universities, the 1954 Texas State Fair, and numerous Dallas theaters, restaurants, and lunch counters were all integrated.
Craft was born on February 9, 1902, and was the only child of David and Eliza Shanks. Her grandparents had been slaves, her father was a high school principal, and her mother worked a teacher and seamstress. After completing high school in Austin, Texas, Craft attended Prairie View State Normal and Industrial College (now Prairie View A&M University) and received a certificate in dressmaking and millinery in 1921. Later, she received a teaching certificate from Samuel Huston College in Austin.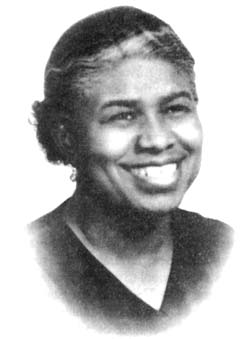 Craft began her fight for equality after her mother died of tuberculosis, as a sanitarium in San Angelo, Texas, refused her treatment because of her race. Years later, Craft moved to Dallas began working as a maid and dressmaker and eventually joined the NAACP. She ultimately formed 182 rural NAACP chapters. She often sat in "whites only" sections as she traveled around the state, always refusing to move for whites.
Craft joined demonstrations against the segregated University of Texas Law School and North Texas State University, each resulting in successful lawsuits in 1950 and 1955. She opened a dropout preparation program in Dallas and ultimately served as a delegate to the White House Conference on Children and Youth.
Craft worked as a member of the Governor's Human Relations Committee. At the age of 73, Craft was elected to the Dallas City Council, where she spent two years working to improve the status of Hispanic and Native Americans. Craft died in 1985, she was 83.
sources:
https://tshaonline.org/handbook/online/articles/fcr59
https://www.nps.gov/nr/travel/civilrights/tx1.htm