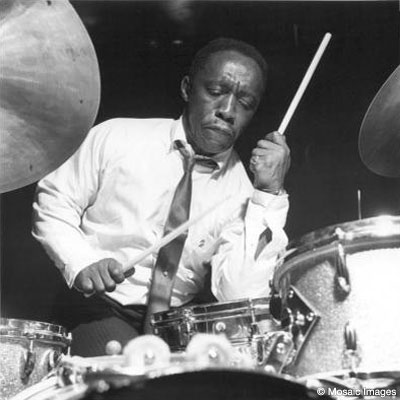 Arthur "Art" Blakey was an American jazz drummer and bandleader. He was known as Abdullah Ibn Buhaina after he converted to the Islamic religion.
Blakey was born on October 11, 1919 in Pittsburgh, Pennsylvania, to a single mother, who died shortly after his birth. He is described as having been "raised with his siblings by a family friend who became a surrogate mother."
Sources agree that by the time Blakely was in seventh grade, he was playing music full-time and had begun to take on adult responsibilities, playing the piano to earn money and learning to be a band leader. He switched from piano to drums at an uncertain date in the early 1930s. From 1939 to 1944, Blakey played with fellow Pittsburgh native Mary Lou Williams and toured with the Fletcher Henderson Orchestra.
Blakey made a name for himself in the 1940s in the big bands of Fletcher Henderson and Billy Eckstine. He worked with bebop musicians Thelonious Monk, Charlie Parker, and Dizzy Gillespie. In the mid-1950s, Horace Silver and Blakey formed the Jazz Messengers, a group that the drummer was associated with for the next 35 years.
Blakey went on to record dozens of albums with a constantly changing group of Jazz Messengers. He had a policy of encouraging young musicians: as he remarked on-mic during the live session that resulted in the A Night at Birdland albums in 1954: "I'm gonna stay with the youngsters. When these get too old I'll get some younger ones. Keeps the mind active." The Jazz Messengers nurtured and influenced many of the key figures of the hard bop movement of the late 1950s to early 1960s.
Blakey was given numerous awards during his life and posthumously. He was inducted into the Jazz Hall of Fame, the Grammy Hall of Fame, and was awarded the Grammy Lifetime Achievement Award in 2005. Arthur Blakely died in 1990; he was 71.
source:
https://www.ascap.com/eventsawards/awards/jazzwall/2008/bios/blakey.aspx