BY WALTER OPINDE 
On June, 12, 1964, Nelson Mandela received a life sentence for committing sabotage against South Africa's apartheid government, avoiding a possible death penalty.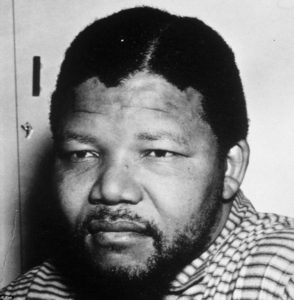 Nelson Mandela, a leader in the African National Congress (ANC), an organization dedicated to protesting the South African government's policy of apartheid, had been arrested in 1956 on treason charges but was acquitted.
Throughout South Africa's early history as Dutch (Orange Free State) and British (Cape) colonies, native Africans were discriminated against. Slavery was formally abolished throughout the British Empire in 1833, but indentured servitude persisted for decades. Even in 1936, nearly all non-whites were effectively banned from voting in South Africa. This discrimination grew worse after the National Party came to power in 1948.
The ANC had been banned by the government in 1960, following the Sharpeville massacre. Mandela was forced to go underground, adopting a number of disguises; sometimes a laborer and other times a chauffeur. The press had dubbed him "the Black Pimpernel" because of his ability to evade the police.
In 1961, believing that non-violent measures would not be successful, Mandela and other ANC leaders formed Umkhonto we Sizwe (MK), a militant wing of the ANC. Beginning on December 16, 1961, MK, with Mandela as its commander in chief, launched bombing attacks on government targets and made plans for guerilla warfare.
Mandela was arrested on 5th August, 1962, and sentenced to five years in prison for inciting a workers' strike in 1961. A year later, in July 1963, the government launched a raid on the Lilliesleaf farm in Rivonia, which had been used as an ANC hideout. It arrested 19 ANC leaders and discovered documents describing MK's plans for attacks and guerilla warfare.
The government charged 11 ANC leaders, including Mandela, with crimes under the 1962 Sabotage Act. At the Rivonia Trial, Mandela chose not to take the witness stand; instead, he made a lengthy statement from the dock on 20th April, 1964. In his statement, he explained the history and motives on the ANC and MK, admitting to many of the charges against him and defending his use of violence.
Nelson Mandela concluded, "During my lifetime I have dedicated myself to this struggle of the African people. I have fought against white domination, and I have fought against black domination. I have cherished the ideal of a democratic and free society in which all persons live together in harmony and with equal opportunities. It is an ideal which I hope to live for and to achieve. But if needs be, it is an ideal for which I am prepared to die."
Mandela was found guilty on four charges of sabotage on 11th June. The following day, he and seven on his co-defendants were sentenced to life imprisonment, avoiding the death sentence. Mandela and the other six non-white defendants were sent to the prison on Robben Island, a former leper colony located off the coast of Cape Town.
Read more of the related stories via:
https://www.nelsonmandela.org/news/entry/nelson-mandela-sentenced-to-life-imprisonment-44-years-ago
http://www.newsweek.com/south-africas-nelson-mandela-sentenced-life-207084