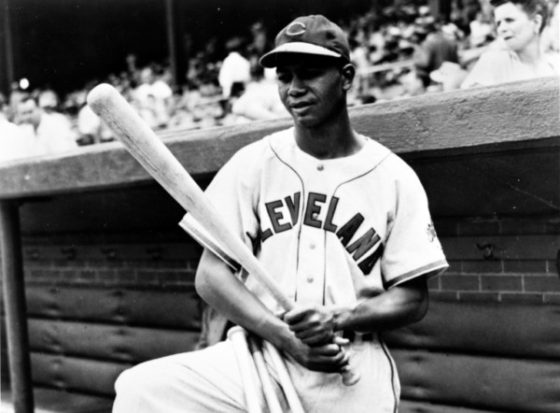 Larry Doby made history when he broke the color barrier in 1947 becoming the first black baseball player for the Cleveland Indians in the American League.
Doby was born in July 1924 and was the son of a semi-pro baseball player who died when Doby was eight. He grew up in Camden, South Carolina, moving to Paterson, New Jersey in his teens. He attended Eastside High School, as the only black player on the team, he lettered in baseball, football, and basketball. He also lettered in track.
In 1942, as a 17-year-old, Doby joined the Newark Eagles of the Negro National League, playing second base under the name of Larry Walker to protect his amateur standing. His first professional baseball game was played at Yankee Stadium. At the end of the season, the talented Doby signed a contract with the Paterson Panthers of the American Basketball League. The next two years were spent in the U. S. Navy, but he returned to the Eagles, leading them to a Negro National League pennant and World Series championship win over the Kansas City Monarchs.
In 1947, only a few months after Jackie Robinson's major league debut, Cleveland Indians owner Bill Veeck signed Doby and he became the first African-American player in the American League.
Doby also became the first black player to hit a home run in a World Series. He made six straight All-Star teams. On the 1949 team, he played along with three other distinguished men: Jackie Robinson, Roy Campanella, and Don Newcombe.
In 1971, Doby coached first the Montreal Expos, then the Cleveland Indians, before returning to the Expos. He became director of community relations for the New Jersey Nets of the National Basketball Association in 1977 and was offered a position with the Major League Baseball Properties in 1979 where he remains to this day, handling the licensing of former players and advising Gene Budig, the American League president.
sources:
http://baseballhall.org/hof/doby-larry